Solana Beach San Diego CA Real Estate – including, Homes, Townhomes, Condos, and Multifamilies for Sale Search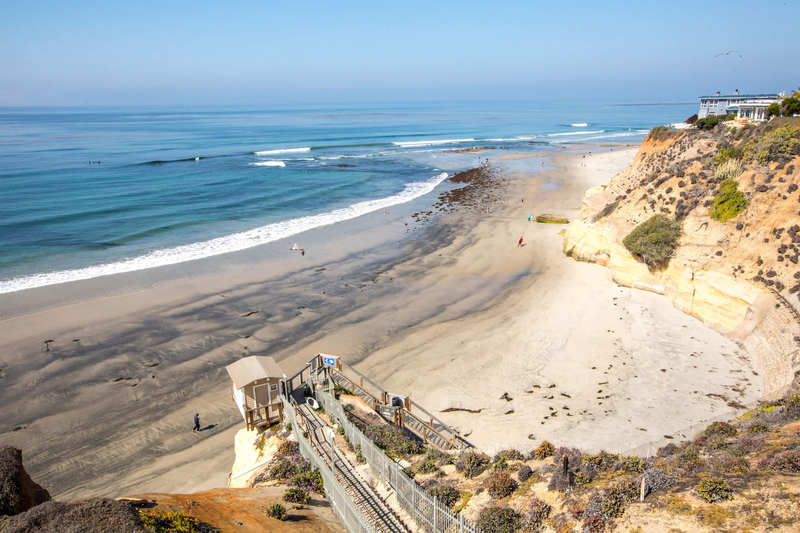 Updated every 5 minutes with the latest real estate for sale in Solana Beach San Diego CA - including homes, townhomes, condos, and multifamilies - as posted by Solana Beach real estate agents and brokers - over 30% more listings than Zillow, Realtor, Trulia, and Redfin.
Get Signed Up Now to receive new listings, price changes, and recent sales prices - with the ability to get instant, daily, weekly, bi weekly, or monthly email updates.
By creating your FREE account you can:
Get New Property Email Alerts


Price Change Alerts


Detailed Property Info


Virtual Pictures


Track Recent Active, Pending, and Solds
Get Signed Up Now and get the latest Solana Beach tax and HUD foreclosures, REO properties, bank owned homes, and short sales being offered at HUGE price reductions and significantly lower than retail value.
Solana Beach
June 4, 2023
$1,641.53
Avg. $ / Sq.Ft.
$2,724,500
Med. List Price
Solana Beach Information and Highlights
Here's a quick rundown of our list:
Solana Beach Information and Highlights
An area of coastal magnificent just north of San Diego, Solana Beach is the rightful owner of a tiny slip of real estate in paradise. First inhabited by the San Dieguitos (primitive natives during the Holocene era), Solana Beach has been slowly edging its way into the national headline as prime living location.
During colonial periods, The Spaniards used the area as a small rest area before heading inland to avoid marshes and inlets. The first, one hundred percent with national US pride family to sink their feet into the spot, where the Jones in 1886. In its early stage, Solano Beach suffered the stagnation of a tranquil seafront community, most trade and business avoiding the area like the plague. Then, luck turned on the idilic surf district and the Lake Hodges Dam was built in 1918. Boom, went the region as its was swept up in a rapid whirlpool of development.
By the end of the second World War, with the savvy forethought of the Jones family and real estate tycoon Colonel Ed Fletcher, the area had evolved from a rural town into a prosperous modern city.
Its most affluent and historical important community is La Colonia de Eden Gardens; formed by Mexican ranchers in 1920.
Weather
Solana Beach is an seaside town whose weather conditions are at the constant mercy of the fickle mistress called the Pacific Ocean. Forecasts can turn in flash by the slightest change in wind patterns or weather conditions; a slight breeze or zephyr out by the sound might very well plunge a sunny day into a rainy event. Winters are cool with chilly weather in the morning, while Summers are humid and warm. The rest, as they say, is anybodies guest.
Recreation
Solana Beach, as you can infer by its name, is the sort of town that should give each new resident a surfer to english translator as welcome to the neighborhood gift. It's recreational activities are similar to those of the stereotypical seaside Surfer's den.
Fletcher Cove - 111 S. Sierra.


Tide Beach Park - 302 Solana Vista.


Seascape Surf - 501 S. Sierra Avenue.


Del Mar Shores - 180 Del Mar Shores Terrace.
For the landlubbers, Solan Beach's amazing arts and theater district are a magnificent way of experiencing this city's vibrant lifestyle.
Belly Up Tavern - 143 S Cedros Ave.


Carlos Design District - Cedros Avenue.
Shopping
Shopping in Solana Beach is a varied affair that leapfrogs from smashing boutiques and the cliche-like shanty surfer store, to a big box store and an open air market place with a Sunglass Hut. In Solana Beach your options for happily swiping your plastic are vast and great.
SoLo - 309 S Cedros Ave - (858) 794-9016
GRACEDBYGRIT - 153 N Hwy 101 - 858-436-7247
Music Mart - 122 S Solana Hills Dr - (858) 259-3940
Leaping Lotus - 240 S Cedros Ave - (858) 720-8283
Mitch's Surf Shop - 363 N Hwy 101 - (858) 481-1354
Once Upon A Frame - 132 E Cliff St - (858) 764-4274
Passion Fine Jewelry - 415 S Cedros Ave - (858) 794-8000
Hair Lounge at Cedros - 112 S Cedros Ave - (858) 755-4522
Restaurants
Have you ever tasted Octopi Ceviche? Or the succulent almost orgasmic ecstasy of a well marinated red tuna sashimi, so fresh that it practically swims up to your plate? If not, then you are in luck. Solano Beach has its fair share of exotic bistros to calm your curiosity. Succulent little hotbeds of tantalizing fare that will have you addressing the waiter with the following question: "what in tarnation is that?"
And, once you tire of fetching your dictionary, just to get a vague idea of what your chewing on, Solana Beach flicks back the curtain and reveals a buffet of safe and in the comfort zone medley to calm your disoriented belly.
Naked Cafe - 106 S Sierra Ave - (858) 259-7866
Beach Grass Cafe - 159 S Hwy 101 - (858) 509-0632
Hide Away Cafe - 150 S Acacia Ave - (858) 755-3388
Waters Fine Foods - 125 S Hwy 101 - (858) 509-9400
The Curious Fork - 512 Via de La Valle - (858) 876-6386
Claire's On Cedros - 246 N Cedros Ave - (858) 259-8597
Pamplemousse Grille - 514 Via de La Valle - (858) 792-9090
Lockwood Table Cafe - 346B S Cedros Ave - (858) 794-4919
Bongiorno's New York Pizzeria - 524 Stevens Ave - (858) 755-2646
Solana Beach Fish House - 124 Lomas Santa Fe Dr - (858) 481-3474
Nightlife
Nighttime in Solano Beach, particularly its army of After Hours lounges, is the sort of extravagant adventure that might very well have brought a tear of joy to Ernest Hemingway. Your cup will never be dry. Your pint will never be forced to face such existential questions surrounding its positive or negative attitude. In Solano Beach, with its many taverns, bars, lounges, pubs and beachfront liquor obsessed parlors, the days events will positively drain from your soul come check-out time at your nine-to-five.
Saddle Bar - 123 W Plz St - (858) 755-5007
Pillbox Tavern - 117 W Plaza St - (858) 436-7016
Belly Up Tavern - 143 S Cedros Ave - (858) 481-8140
Ember + Still - 124 S Solana Hills Dr - (858) 793-7325
Solana Beach Crush - 437 S Hwy 101 - (858) 481-2787
San Diego Beerworks - 437 S Hwy 101 - (858) 353-2815
Demographics
Population: 12,979 people.
Population Density: 3,678.7 inhabitants per square mile.
Median Age: 42 years.
Male/Female Ratio: For every 100 females age 18 and over, there were 94.5 males.
Local/Notable Employers
Solano Beach has a rather odd pool of jobs. It takes a surfers and hippies view of marketable traits. You'll discover dozens of art galleries, hungrily in search of the next Picasso, as well as a mire of antique boutiques and cafes prompting up the much needed "help wanted" plaque. Solano Beach economical makeup breaks up as following: a place for commoners to rest, while artists and teenagers try out their luck out.
Schools
Solana Beach is served by the Solana Beach School District and the San Dieguito Union High School District. Solana Beach covers your tots educational needs all the way to high school.
Earl Warren Middle School - 155 Stevens Ave - 858-755-1558.


Skyline Elementary School - 606 Lomas Santa Fe Dr - 858-794-3600.


Santa Fe Christian Schools - 838 Academy Dr - 858-755-8900.


Solana Vista School - 780 Santa Victoria - 858-794-3700.


Solona Beach Child Development Center - 309 N Rios Ave - 858-794-7160.
Landmarks
Solano Beach is a laid-back town with a modern history mostly devoted of strife, malice or noteworthy place honored by a statue or two. Its landmarks are like its spirit, full of joy and tributes to Hakuna- Matata soul. Its iconic are manmade, but spots crafted and brought into being by the able hand of Mother Nature.
Sand Pebbles Resort - 535 Hwy 101 - 858-509-8799.


Lomas Santa Fe Country Club - 1505 Lomas Santa Fe Dr - 858-755-6768.


Lomas Santa Fe Exec Golf Course - 1580 Sun Valley Rd - 858-755-0195.


Solana Beach Little League's Fields - San Patricio Dr - 619-594-4186.
Conclusion
Solano Beach, like a great deal of Norther San Diego's coast, is a happy-go-lucky little town where a man's troubles are left at its borders. The sort of spot where after a while you'll somehow find that your vocabulary has been altered and expressions like "dude" and "just chill out", will be nothing more than welcomed honey on the tip of your tongue.
Solana Beach Mortgage
Whether you are a first time home buyer, need down payment assistance, were in the military or are now, want to buy in the country side, put down as little as 3%, or much more than that, I have access to the top mortgage programs in the State with over 40 wholesale lenders at my disposal. You will get much lower rates and fees than any local credit union or bank.
Solana Beach Property Alert
Be the first to know when new Solana Beach short sales, foreclosures, deeply discounted homes, and brand new hot properties come onto the market before anyone else - over 30% more listings than Trulia, Zillow and Realtor.
Solana Beach Home Valuation
Do you own a home in Solana Beach and want to find out instantly and completely free what it is worth in today's market - with absolutely no cost or obligation?
Solana Beach Market Statistics
Stay up to date with the latest sales prices, market times, days on market, number of homes sold, and over 12 of the most up to date housing statistics going back over 16 years.
Solana Beach Subdivisions