Normal Heights San Diego CA Real Estate – including, Homes, Townhomes, Condos, and Multifamilies for Sale Search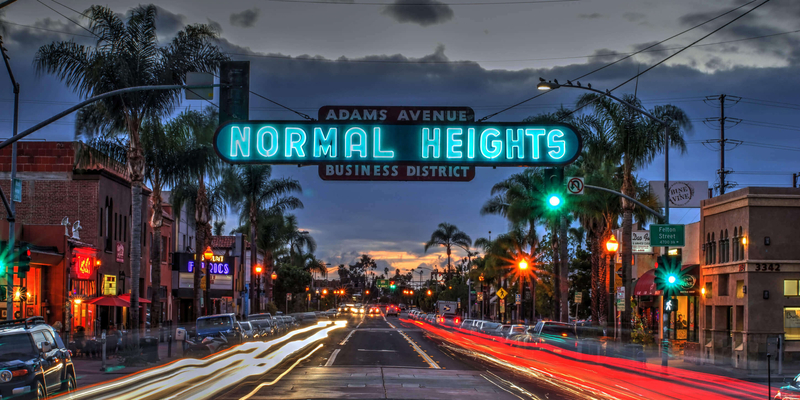 Updated every 5 minutes with the latest real estate for sale in Normal Heights San Diego CA - including homes, townhomes, condos, and multifamilies - as posted by Normal Heights real estate agents and brokers - over 30% more listings than Zillow, Realtor, Trulia, and Redfin.
Get Signed Up Now to receive new listings, price changes, and recent sales prices - with the ability to get instant, daily, weekly, bi weekly, or monthly email updates.
By creating your FREE account you can:
Get New Property Email Alerts


Price Change Alerts


Detailed Property Info


Virtual Pictures


Track Recent Active, Pending, and Solds
Get Signed Up Now and get the latest Normal Heights tax and HUD foreclosures, REO properties, bank owned homes, and short sales being offered at HUGE price reductions and significantly lower than retail value.
Normal Heights
February 25, 2021
$1,075,000
Med. List Price
Normal Heights Information and Highlights
Here's a quick rundown of our list:
Normal Heights Information and Highlights
Founded in 1906, Normal Heights was originally named after the San Diego Normal School, which was the predecessor to San Diego State University.
Often described as "one of the most walkable neighborhoods in San Diego", Normal Heights is actually made up of three distinct neighborhoods, including:
Located north of El Cajon Boulevard between Interstates 15 and 805, Normal Heights is a beautiful neighborhood serviced by an abundance of boutique stores, cafes and retailers along the central commercial district of Adams Avenue.
Shopping
Normal Heights is flourishing with a variety of retailers along Adams Avenue and El Cajon Boulevard, including:
The Incredible Cheesecake Company - 3161 Adams Ave - 619-563-9722
Villainous Lair Comics & Gaming - 3220 Adams Ave - 619-281-1600
Lestat's Coffee House - 3343 Adams Ave - 619-282-0437
Dark Horse Coffee Roasters - 3260 Adams Ave - 619-344-6962
Furry Friends Dog and Cat Grooming - 3537 Adams Ave - 619-282-2536
Mariposa Ice Cream - 3450 Adams Ave - 619-284-5197
Vons - 3610 Adams Ave - 619-280-7634
Bine & Vine Bottle Shop - 3334 Adams Ave - 619-795-2463
North Park Produce - 3551 El Cajon Blvd - 619-516-3336
Restaurants
The Normal Heights area has a wide selection of restaurants and cuisines that will savor the taste buds of any resident.
DiMille's is the place to go for authentic Italian Food and an amazing Sunday brunch, while El Zarape offers fresh and bold Mexican dishes.
Here are a few restaurants within the Normal Heights neighborhood:
Mauricio's Restaurants - 3200 Adams Ave - 619-285-1362
El Zarape Restaurant - 3201 Adams Ave - 619-578-2600
Zia's Gourmet Pizza - 3311 Adams Ave - 619-284-4320
Jyoti-Bihanga - 3351 Adams Ave - 619-282-4116
Blind Lady Ale House - 3416 Adams Ave - 619-255-2491
Di Mille's Italian Restaurant - 3492 Adams Ave - 619-283-3153
DaoFu - 3332 Adams Ave - 619-281-6888
Nightlife
Whether it's the local pub or an upscale wine bar, the nightlife scene in Normal Heights has an abundance of venues to serve the needs of every resident.
Places like Triple Crown Pub serve as a favorite hangout amongst sports junkies, while establishments like the Proprietor's Reserve Wine Bar provide more of a sophisticated ambiance to mature crowds.
Here are a few popular hangouts within the Normal Heights neighborhood:
Triple Crown Pub - 3221 Adams Ave - 619-281-0263
Sycamore Den - 3391 Adams Ave - 619-563-9019
Rosie O'Grady's - 3402 Adams Ave - 619-284-7666
Proprietor's Reserve Wine Bar - 4711 34th St - 619-283-7449
The Rabbit Hole - 3377 Adams Ave - 619-255-4653
The Hideout - 3519 El Cajon Blvd - 619-501-6540
The Ould Sod - 3373 Adams Ave - 619-284-6594
Schools
There are an abundance of schools that are in close proximity of the Normal Heights area, which will ensure that families have access to high quality educational options close to home. Some schools include:
Normal Heights Elementary
San Diego Global Vision Academies
Herbert Hoover High School
Cherokee Point Elementary School
Landmarks
There are several popular landmarks in the Normal Heights area that offer residents a combination of physical activity and a variety of entertainment on a regular basis.
Adams Recreational Center – This local recreation center offers a variety of sports and activities for both children and adults. Whether its Youth Baseball, Yoga classes or a neighborhood barbeque, this rec center offers something for everyone.
Ward Canyon Neighborhood Park - This massive park features an abundance of outdoor green space and a variety of playgrounds to meet the needs of every child, regardless of age. The park is also home to modern basketball courts and hosts movie showings in the park during the summer season.
Normal Heights Community Center – This center has served as a popular meeting place for local residents looking to host classes and other discussions. The venue features a fully functioning kitchen, 20 full-length banquet tables and seating for 100 people.
Transportation
Normal Heights is accessible by car via the Escondido Freeway or Interstate 805. This area can also be reached via public transportation on the #11 and #170 bus routes.
Conclusion
If you are looking for a neighborhood with plenty of outdoor space, coupled with an abundance of restaurants and shops, you may be pleasantly surprised by all that the Normal Heights neighborhood has to offer.
Normal Heights Mortgage
Whether you are a first time home buyer, need down payment assistance, were in the military or are now, want to buy in the country side, put down as little as 3%, or much more than that, I have access to the top mortgage programs in the State with over 40 wholesale lenders at my disposal. You will get much lower rates and fees than any local credit union or bank.
Normal Heights Property Alert
Be the first to know when new Normal Heights short sales, foreclosures, deeply discounted homes, and brand new hot properties come onto the market before anyone else - over 30% more listings than Trulia, Zillow and Realtor.
Normal Heights Home Valuation
Do you own a home in Normal Heights and want to find out instantly and completely free what it is worth in today's market - with absolutely no cost or obligation?
Normal Heights Market Statistics
Stay up to date with the latest sales prices, market times, days on market, number of homes sold, and over 12 of the most up to date housing statistics going back over 16 years.