Encinitas San Diego CA Real Estate – including, Homes, Townhomes, Condos, and Multifamilies for Sale Search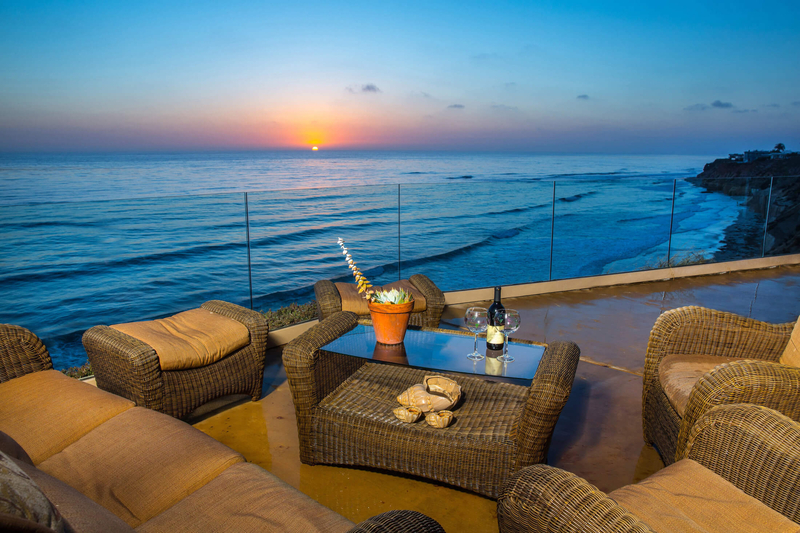 Updated every 5 minutes with the latest real estate for sale in Encinitas San Diego CA - including homes, townhomes, condos, and multifamilies - as posted by Encinitas real estate agents and brokers - over 30% more listings than Zillow, Realtor, Trulia, and Redfin.
Get Signed Up Now to receive new listings, price changes, and recent sales prices - with the ability to get instant, daily, weekly, bi weekly, or monthly email updates.
By creating your FREE account you can:
Get New Property Email Alerts


Price Change Alerts


Detailed Property Info


Virtual Pictures


Track Recent Active, Pending, and Solds
Get Signed Up Now and get the latest Encinitas tax and HUD foreclosures, REO properties, bank owned homes, and short sales being offered at HUGE price reductions and significantly lower than retail value.
$1,138.26
Avg. $ / Sq.Ft.
$2,149,000
Med. List Price
Encinitas Information and Highlights
Here's a quick rundown of our list:
Encinitas Information and Highlights
Encinitas is the town tangentially mention on The Beach Boy's classic song "Surfin' U.S.A."
"Haggerties and Swamies, Pacific Palisades… Everybody's gone surfin'…Surfin' U.S. A."
Swami Reef on Encinitas a major destination for Surfers. Rich waters, excellent flora thriving with kept forest, surf grass beds, and rocky reed. Crystal pools delineated by rocks against the swell that feature a variety of cast members from "The Little Mermaid"; lobsters, halibuts, octopi, brittle stars and crabs. This being one of the town's most pervasive legends.
Encinitas is a wonderful beach city located approximately 25 miles north of San Diego in its North Country region and a mere 85 miles from Los Angeles. A perfectly placed spot that has it nestled in one of the state's most beautiful regions.
Encinitas is a ecologists dream city, a town that values its conservationist heart, primarily on its coastal regions and its sensitive and rich marine ecosystems. Ecosystems protected by the California Marine Life Protection Act.
The zone's largest industry, true to form and spirit, is the growing of flowers, in particular the poinsettias. Plus, as you can imagine given its "cowabunga" obsession and lifestyle, it makes particular use of its fame as coastal town and surf enthusiast haven.
Weather
Encinitas climate is generally mild and pleasant. The average daily high is 72ªF with nighttime low in the 40ºF. Its dry season last through summer all the way past fall.
Recreation
Surf and the beach are Encinitas' main past-times. Nonetheless, aside from its constantly kneeling at that altar of groovy waves, Encinitas has also funneled into its borders a number of Museums, art institutes and a calendar heavy with annual events.
Regular Events:
April Street Fair: 2 day event held every April in Downtown Encinitas.
Deep pit BBQ: End of May at the San Dieguito Heritage Museum.
Environment Day: Games and family entertainment of the 2nd Sunday of June.
Classic Car Cruise Night: 3rd Thursday of acc month on the Coast Highway 101 in Downtown Encinitas.
Wellness Week: Annual week long event that promotes well-being and healthy lifestyles.
Oktoberfest: 3rd Sunday of September, classic beer celebration brought over from Germany.
Fall Festival: one-day street fair held in October.
Moonlight State Beach - B St - 760-633-2740.


Lux Art Institute - 1550 S. El Camino Real.


Encinitas Community Park - 425 Santa Fe Dr - 760-633-2740.
Shopping
Encinitas tangos on a tightrope between unique and authentic to the region boutiques and cloned brand stores imported from all the corners of the nation. You'll find surf shops, antique shops and tattoo parlors so faithful to the region that they practically smell of coconut suntan oil. While, on the next block you'll step into a Banana Republic positively photocopied from the corporate catalogue. In Encinitas you'll never be wanton for anything; neither mass-produced or handcrafted.
Ecotopiia - 543 S Coast Hwy 101 - (760) 753-7420
deepFLING - 937 S Coast Hwy 101 - (760) 942-4254
EmbroidMe - 191 N. El Camino Real - (760) 943-8022
101 Piercing - 1114 N Coast Hwy 101 - (760) 942-0101
Flower Frenzy - 1163 S Coast Hwy 101 - (760) 753-1770
Weidners' Gardens - 695 Normandy Rd - (760) 436-2194
Encinitas Surfboards - 107 N Coast Hwy 101 - (760) 753-0506
Ducky Waddle's Emporium - 414 N Coast Hwy 101 - (760) 632-0488
Movin Shoes Running Centers - 897 S Coast Hwy 101 - (760) 634-2353
Soulscape Gift And Book Store - 765 S Coast Hwy 101 - (760) 753-2345
Restaurants
As you can imagine, Encinitas' dinner manners and predilections fall on the casual and free- spirited side of the table. A motley and whimsical conglomeration of restaurants and bistros that are lead astray by fun, japes and merriment… And not by protocol. Its the sort of place where one would not be out of place with flip-flops and a wet t-shirt. Still, there lack of decorum doesn't necessarily speak ill of their fare, most have mouthwatering delicacies that may make a man fall back on his seat and praise his good fortune.
Lobster West - 765 S Coast Hwy - (760) 634-1684
Le Papagayo - 1002 N Coast Hwy 101 - (760) 944-8252
Native Foods Café - 127 N El Camino Rd - (760) 634-7607
The Kebab Shop - 127 N El Camino Real - (760) 634-9822
Rosati's Encinitas - 337 N El Camino Real - (760) 452-2007
Hooked On Sushi - 272 N El Camino Real - (760) 487-5410
Betty's Pie Whole - 155 Quail Gardens Dr - (760) 230-6781
Healthy Creations - 376 N El Camino Real - (760) 479-0500
Solace and the Moonlight Lounge - 25 East E St - (760) 753-2433
Sabor de Vida Brazilian Grill - 215 S El Camino Real - (760) 230-0464
Nightlife
Nightlife in Encinitas has bit of everything. A wide spectrum of option to drown your sorrows, fuel your revelry and beat back boredom. A bit of everything, for everyone.
The Regal Seagull - 996 N Coast Hwy 101 - (760) 479-2337
Lumberyard Tavern - 967 S Coast Hwy 101 - (760) 479-1657
Encinitas Ale House - 1044 S Coast Hwy 101 - (760) 943-7180
Union Kitchen & Tap - 1108 S Coast Hwy 101 - (760) 230-2337
Solterra Winery & Kitchen - 934 N Coast Hwy 101 - (760) 230-2970
Encinitas Wine Merchants - 166-B N El Camino Real - (760) 407-4265
The 3rd Corner Wine Shop & Bistro - 897 S Coast Hwy - (760) 942-2104
Mr Peabody's Bar & Grill Live Music - 136 Encinitas Blvd - (760) 753-7192
Demographics
Population: 59,518.
Population Density: 2,977.5 people per square mile.
Median Age: 41.5 years.
Male/Female Ratio: For every 100 females age 18 and over, there were 95.3 males..
Schools
Not just run-of-the-mill normal schools are stockpiled within Encinitas' borders, but a wealth off wacky options also find a home in its colorful neighborhood. Surf-academies, paranormal pavilions, esoteric institutes and the odd Visual Arts school or two. In Encinitas you don't have to settle for studying the classical trades of your forefathers.
San Dieguito Academy - 800 Santa Fe Dr - 760-753-1121.


Sunset Continuation High School - 684 Requeza St - 760-753-3860.


Oak Crest Middle School - 675 Balour Dr - 760-753-6241.


The Grauer School - 1500 S El Camino Real - 760-944-6777.


Encinitas Country Day School - 3616 Manchester Ave - 760-942-1111.
Landmarks
Beaches, parks, historical societies, a nautical and aquatic conservatory, a mosaic known as "The Surfing Madonna" and the state's oldest store, these are some of the icons that call Encinitas their home.
Encinitas Community Park - 425 Santa Fe Dr - 760-633-2740.


Magdalena Ecke Family YMCA - 200 Saxony Rd - 760-942-9622.


Hansen's Surf Shop - 1105 S Coast Hwy 101.


Moonlight State Beach - B St - 760-633-2740.


Encinitas Historical Society and 1883 Schoolhouse - 390 W F St - 760-942-9066.


Olivenhain Meeting Hall - 423 South Rancho Santa Fe Road - 760-943-9255.
Conclusion
Encinitas is a Point Break like Mecca where surf is king and everything else slips into second place like wisps of vapor over polished glass. An odd little town that manages to constantly have a fresh outlook on life. It never seizes to amaze or inspire.
Encinitas Mortgage
Whether you are a first time home buyer, need down payment assistance, were in the military or are now, want to buy in the country side, put down as little as 3%, or much more than that, I have access to the top mortgage programs in the State with over 40 wholesale lenders at my disposal. You will get much lower rates and fees than any local credit union or bank.
Encinitas Property Alert
Be the first to know when new Encinitas short sales, foreclosures, deeply discounted homes, and brand new hot properties come onto the market before anyone else - over 30% more listings than Trulia, Zillow and Realtor.
Encinitas Home Valuation
Do you own a home in Encinitas and want to find out instantly and completely free what it is worth in today's market - with absolutely no cost or obligation?
Encinitas Market Statistics
Stay up to date with the latest sales prices, market times, days on market, number of homes sold, and over 12 of the most up to date housing statistics going back over 16 years.