Downtown San Diego CA Condos for Sale Search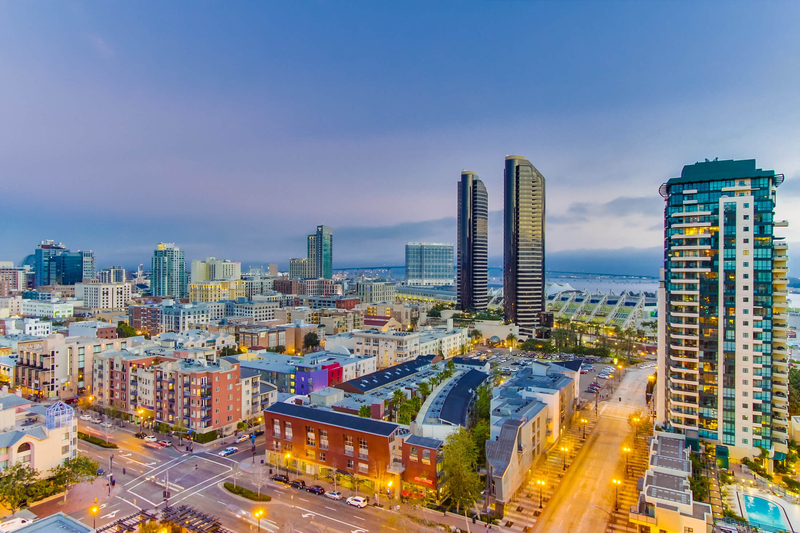 Updated every 5 minutes with the latest condos for sale in Downtown San Diego CA - as posted by Downtown real estate agents and brokers - over 30% more listings than Zillow, Realtor, Trulia, and Redfin.
Get Signed Up Now to receive new listings, price changes, and recent sales prices - with the ability to get instant, daily, weekly, bi weekly, or monthly email updates.
By creating your FREE account you can:
Get New Property Email Alerts


Price Change Alerts


Detailed Property Info


Virtual Pictures


Track Recent Active, Pending, and Solds
Get Signed Up Now and get the latest Downtown tax and HUD foreclosures, REO properties, bank owned homes, and short sales being offered at HUGE price reductions and significantly lower than retail value.
$1,039,000
Med. List Price
Downtown Information and Highlights
Here's a quick rundown of our list:
Downtown Information and Highlights
If you have a nerve for true Californian culture then you should never miss visiting Downtown San Diego. With all the vibrant colors of the active life in California, Downtown San Diego is also a center of culture and finance, thus offering rich but easy-to-reach lifestyle for both its inhabitants and tourists. Also known as the Center City, it is the eighth largest city in States with nine districts and more than 4000 businesses.
Delights of nature are added to this purely industrial city in the form of San Diego Bay to the west and southwest. With numerous government buildings and other important constructions, it offers beautiful architecture, historic landmarks, and rich information on American culture and arts and craft.
History
Originating from Old Town near Presidio, Downtown San Diego was not considered an ideal place for settlement due to its long distance from navigable water. But it gained importance in 1849 when Lt. Andrew B. Gray suggested establishing new state of California here. The city attracted a few investors only due to lack of fresh water supply.
Followed by financial depression of 1851, Downtown remained an unnoticed locality till 1867 when Alonzo Horton purchased 800 acres and established Horton Additions wharf here. It opened doors to real estate boom of San Diego with Old Town establishment in the heart of the city and New Town establishment in the surroundings. Construction of railroads, modern commercial playhouses, theatres, electric lights, street car shows, and many such modern developments added to the present day Downtown San Diego.
Location
With San Diego Bay to the west and southwest, Golden Hill and Sherman Heights to the east, San Diego International Airport just in the northwest, and Balboa Park, Middletown and Bankers Hill in the north, Downtown is located in the vicinity of Central San Diego.
While living in Downtown San Diego, you will also enjoy the rich culture of the following neighborhoods.
Weather
With medium precipitation and high humidity throughout the year, the weather is often clear but slightly cloudy. From October to March, Downtown San Diego offers chilling winter but from April, the temperature starts rising up. During May and June, the temperature is often hot in daytime and cool and windy in the nighttime. July to September offers high precipitation, thick clouds and good chances of rain almost throughout the season.
Shopping
Downtown San Diego, being the financial hub of the city, offers exclusive variety on every need of life. While selecting clothes, shoes, jewelry, makeup and any other thing you need, don't forget to grab San Diego's finest foods from nearby shops and cafes. Downtown San Diego also offers amazing range in crockery and marble flooring. The best thing about Downtown San Diego is the economy. Irrespective of its financial and economic importance, the city offers everything at very cheap rates. Visit the stores any day of the week and you will definitely get a deal on majority of the things.
Here are some top destinations you must visit when in Downtown San Diego.
Mona Lisa Boutique - 437 J St - (619) 757-4701
The Mugger - 863 W Harbor Dr - (619) 233-4455
MADISON - 789 West Harbor Dr - (619) 238-0040
Seaport Village - 849 W Harbor Dr - (619) 235-4014
Baby's Away - Downtown San Diego - (858) 578-8579
Urban Beach House - 789 West Harbor Dr - (619) 615-0915
Love Tatum Showroom - 2204 Garnet Ave - (619) 997-4096
The Headquarters at Seaport – 789 W Harbor Dr - (619) 235-4013
Restaurants
Food, the American love, should not be missed especially when you are out for shopping. Downtown San Diego is not only the financial hub but also the cultural center of California. People from all around the world come and stay here, thus sharing their cultural values with each other. This is why you will find a huge range of food items in the city. Here are some top but cheap restaurants to try!
Ramaki - 1139 6th Ave - (619) 233-3080
Cocina 35 - 1435 6th Ave - (858) 309-5461
Seasons 52 - 789 W Harbor Dr - (619) 702-0052
Downtown Fish Joint - 407 C St - (619) 239-3506
Flour & Barley - 789 W Harbor Dr - (619) 344-2900
The Lion's Share - 629 Kettner Bvd - (619) 677-1516
Fish Market Sushi Bar - 750 N Harbor Dr - (619) 232-3474
Salvatore's Cucina Italiana - 750 Front St - (619) 544-1865
Darband Fifth Avenue Grill - 1556 5th Ave - (619) 230-1001
Richard Walker's Pancake House - 520 Front St - (619) 231-7777
Nightlife
Downtown San Diego offers a slightly different culture from other parts of California. This is why the nightlife is also oriented more towards business, work and sports based entertainment than dance and parties. Hookah bars and lounge style clubs are more popular here but you will definitely find party-like clubs as well. Enlisted here are popular nightlife hubs in Downtown San Diego.
Med Cafe - 1352 5th Ave - (619) 325-1900
The Rooftop Bar - 421 W B St - 619-398-3042
Stout Public House - 1125 6th Ave - (619) 702-7933
The Westin Bar - 400 West Broadway - (619) 239-4500
The Local Eatery & Drinking Hole - 1065 4th Ave - (619) 231-4447
Schools
Staying true to its industrial and financial importance, Downtown San Diego has numerous schools and colleges, including the following.
Montessori Child Development Center
San Diego Unified School District
Perkins Elementary School
Albert Einstein Academy Charter
Kipp Adelante Preparatory Academy
Golden Hill Elementary School
City Tree Christian School
The Art Institute of California
San Diego High Educational Complex
Landmarks
Downtown San Diego is a true depiction of the untold stories about the development of California. A majority of the landmarks in Downtown can be found on the National Register of Historic Places. Some of them are given here.
The Gaslamp Quarter Historic District
The Horton Grand Hotel, 332 F Street
The San Diego Rowing Club
The Spreckels Theatre, 121 Broadway
Santa Fe Depot, 1050 Kettner Street
The Independent Order of Odd Fellows
San Diego Convention Center
San Diego Maritime Museum
Transportation
The common most mean of public transport in Downtown San Diego is Old Town Transit Station or Downtown Santa fe Train Depot. But if you want to go to Southern San Diego, then the best choice would be San Diego Metropolitan Transit System. If you want to know the specific routes of MTS to different parts of the city, you can simply go to their official website and enter your 'to' and 'from' destinations. From Old Town Transit Station, $5 pass would work throughout the day for you.
Private taxis and trolleys also operate in the city but they are definitely more expensive than public transport systems. A majority of the people in Downtown San Diego prefer public transport over private cars and taxis.
Conclusion
Downtown San Diego is one of the ideal most places in California to get settled. Apart from amazing variety in food and shopping, the region also offers huge variety of choices in schools and colleges. Businessmen and investors should look no further than Downtown San Diego for their next project.
Downtown Mortgage
Whether you are a first time home buyer, need down payment assistance, were in the military or are now, want to buy in the country side, put down as little as 3%, or much more than that, I have access to the top mortgage programs in the State with over 40 wholesale lenders at my disposal. You will get much lower rates and fees than any local credit union or bank.
Downtown Property Alert
Be the first to know when new Downtown short sales, foreclosures, deeply discounted homes, and brand new hot properties come onto the market before anyone else - over 30% more listings than Trulia, Zillow and Realtor.
Downtown Home Valuation
Do you own a home in Downtown and want to find out instantly and completely free what it is worth in today's market - with absolutely no cost or obligation?
Downtown Market Statistics
Stay up to date with the latest sales prices, market times, days on market, number of homes sold, and over 12 of the most up to date housing statistics going back over 16 years.