San Diego's 9 Wealthiest Neighborhoods in 2022
Posted by Scott Taylor on Thursday, January 13, 2022 at 5:32 PM
By Scott Taylor / January 13, 2022
Comment
Sophistication, shorelines, stunning scenery, soothing climate - San Diego's fine communities have it all, making the city one of the most coveted addresses in the United States.
With its breathtaking 70 miles of coastline, vibrant culture, and dazzling nightlife scene, it's no wonder that every inch of the city is considered premium on the real estate market.
San Diego's home valuations rank six times above the national market median price. With resident incomes twice that of the national average, many of the people living within its exclusive neighborhoods are among the rich and famous of California.
Here's a list of these top-tier locales in this city where high living is right at home.
Here's a quick rundown of our list:
Also known as 'The jewel by the sea,' La Jolla has a very upscale village atmosphere with an exclusive Mediterranean vibe. Framing its glitzy suburban landscape are panoramic ocean views and rugged cliffs that seamlessly blend nature's richness with chic living.
Its quaint charm is highlighted further by its vintage and eclectic architecture, 7-mile stretch of stunning coastline, and world-class amenities, giving its residents a resort-style living experience. With homes featuring French, Spanish, contemporary, and Mediterranean architectural styles, you can trace most of the original properties in La Jolla back to the 1950s and '60s.
Its population of around 46,000 people has an impressive median household income of $124,573. This means the average La Jolla household earns 125% more than most Americans. However, high incomes and high property prices go hand in hand.
You can expect the prices of single-family homes here to reach a staggering $2,002,454.
With beautifully manicured streets and sidewalks featuring art galleries, designer fashion stores, and Michelin-star restaurants, this walkable locale is a haven for business elites, socialites, and celebrities.
Carmel Valley is a well-planned coastal community sitting next to La Jolla. Like its ritzy neighbor, this posh setting offers top-notch scenery and amenities to its residents of around 55,000. Home prices in this community hover around $1,364,571.
Residents in Carmel Valley enjoy easy access to downtown San Diego like Del Mar or Sorrento Valley. This suburban-style community has several parks and open spaces, along with a great selection of art galleries, wineries, and resorts.
With most developmental projects being restricted to the mesas, the canyons of Carmel Valley thankfully remain untouched, thus contributing to the region's stunning natural beauty. From parks flanked by beautiful beaches to several hiking trails, there is no shortage of outdoor recreation options in Carmel Valley.
The community also has access to top-tier education. Many schools here boast excellent teachers and an extensive list of extracurricular activities for students. Safety is also a priority here, with police frequently patrolling the area at night.
This live-work-play-conducive neighborhood has been designed to provide it all to its residents, from pristine streets featuring upscale restaurants, businesses, hotels, and homes to easy commutes to all the nearby essentials and public spaces. It's always about lifestyle in the lap of luxury in this diverse and thriving community for the rich and famous.
3) Ashley Falls
Located close to Carmel Valley in northwestern San Diego, Ashley Falls is a planned community comprising nine neighborhoods: Sonoma, The Palisades, Provence, The Estates, Watercolors, Amador, Private Collection, Palma Del Mar, and Huntington Heights. Thanks to the gorgeous shorelines offering panoramic views, the outdoor lifestyle in this area is quite lively.
This prestigious coastal community is home to several upscale restaurants, chic boutiques, hotels, commercial offices, residential units, and unlimited entertainment options.
Houses in this family-friendly suburb are within walking distance of several high-ranking schools, parks, theaters, and other local attractions.
With many hiking trails, beaches, golf courses, and country clubs just a short drive away, Ashley Falls offers its residents an active lifestyle. The community also ranks high in terms of volunteering and other outdoor recreational activities. Ashley Falls is a safe, wholesome community that is dog-friendly and known for its spruce sophistication.
With a population of 3,428 residents, Ashley Falls is one of the most economically stable areas of San Diego. Around 93% of the residents own their own homes here, so that speaks for itself - with the average property value in the same ballpark as Carmel Valley.
The median household income of Ashley Falls is $334,872.
Home to Torrey Pines Golf Course, pristine beaches, and a welcoming community, Torrey Pines is a neighborhood that inspires quality living. With a population of 13,494, this exclusive area offers generous open spaces and parks that complement its plush residences.
Bordered by La Jolla and Del Mar, the Torrey Pines community spans 2,600 acres of land area, of which 42% is covered by green patches, 24% is made up of the residential area, and only 15% consists of industrial zones.
Torrey Pines is an idyllic sanctuary with rare trees, relaxing views, an intricate network of hiking trails, and recreation areas.
Torrey Pines in the northern part of San Diego is one of the wealthiest communities in the country. The median household income in this coastal neighborhood is $408,266, while typical property value sits at $611,256.
Not only is its downtown area lined with high-end jewelry shops and boutiques, but there's also no shortage of fine restaurants here for a truly epicurean dining experience.
Thanks to its proximity to the Pacific and the downtown locale, Torrey Pines is a bustling tourist community that can be a perfect place for you to live in if your ideal vacation home lies by the sea.
Formerly a part of Mexico, Rancho Santa Fe was acquired by the Santa Fe Railway in 1906 and became part of the US territory.
With residents like Bill Gates, its reputation is well known throughout the country. Despite the opulence, the homes here - situated on lands with acres of sprawling lawns and tennis courts - have a curiously rustic and laid-back feel.
It is a haven for golfers and equestrians with its string of golf courses, horseback riding trails, and an elite country club. It is a quiet neighborhood well-suited for lovers of the outdoors with its vast green spaces and an ample dose of the Californian sun.
Though primarily a residential area, Rancho Santa Fe has a few blocks offering an array of shopping centers and restaurants, along with exceptional recreation facilities. It is where the most discerning shoppers and diners find satisfaction with bespoke luxury and service worthy of their price tags.
Rancho Santa Fe boasts of a median household income of $369,026, which is over 90% more than the US average - expect to be surrounded by the rich and influential if you're living here, with property values averaging out at a massive $3,096,427.
Get Pre-Approved in 60 Seconds...
(No Social Security Number Needed)
By proceeding, you consent to receive calls and texts at the number you provided, including marketing by auto-dialer, pre-recorded voicemail, and email, from this site's operators about real estate related matters, but not as a condition of purchase. You also agree to our Terms of Service, and to our Privacy Policy regarding the information relating to you. Message and data rates may apply. This consent applies even if you are on a corporate, state or national Do Not Call list. This site is protected by reCAPTCHA and the Google Privacy Policy and Terms of Service apply.
Located in the northeastern part of San Diego, Scripps Ranch is a highly coveted residential location that features splendid architecture, refreshing green patches, high-quality schools, and master-planned cityscapes.
Scripps Ranch's crime rate is so drastically low that it shares its patrol officer with another neighborhood, Sabre Springs. While that alone can be reason enough to set up a permanent base here, a number of good schools, chic boutiques, and charming parks also add to this suburb's allure. It lies close to the 160-acre Lake Miramar, making fishing and kayaking some of the residents' favorite leisure activities here.
Being on the fringes of San Diego, its locals get the best of both worlds — immersing in an idyllic suburban atmosphere while still reaping the benefits of living in a cosmopolitan metropolis.
With a population of about 34,359, the cost of a single-family house here is about $1,060,929, and the median household income is $159,743.
An intriguing history, a competitive housing market, and proximity to the top attractions of downtown San Diego make Scripps Ranch one of the most desirable locations in the US. Those looking to purchase their dream home can count on this exquisite locale to exceed their expectations.
According to Home Snacks, Sabre Springs' residents earn a massive median household income of $112,046. With house prices that typically sit at around $868,817, this is definitely not a place for shoestring budget dwellers.
Sabre Springs also has a lot to offer in terms of comforts and amenities. From streets lined with an exceptional selection of boutiques, cafes, and restaurants to a community filled with business parks, daycare centers, and strip malls, the Sabre Springs neighborhood is both elegant and engaging.
Sabre Springs also ranks high in terms of the lowest crime rates in San Diego and inspires work-life balance with its lovely blend of ease and sophistication.
At a walking distance from Chicarita Creek and other hiking trails, Sabre Springs is an area rich in natural sights and attractions. It is where the rugged outdoors and refined rhythm of its communities blend sweetly, elegantly.
With several recreational options including parks and adequate outdoor spaces for kids, this is a friendly neighborhood that is distinguished, comfortable, and safe to raise a family.
Bordered on the west by the Pacific Ocean and on the east by the San Diego Bay, Point Loma is a posh neighborhood situated on a hilly, green peninsula. All thanks to its prime location, Point Loma exudes luxury in every corner. Along with the spectacular views of the Pacific, this bayfront area also offers stunning views of the Downtown San Diego skyline.
Point Loma was also where the Spanish explorer Juan Cabrillo first landed in California, giving it a place in history beyond its high living status.
This plush neighborhood with wharves, yacht clubs, marinas, and houses adorned by huge, French windows is only a short drive away from the bustling city yet has a quiet, suburban feel. The community also hosts one of the leading Christian universities in the country.
One of the most expensive areas of San Diego, many of the houses in Point Loma are priced well above the $1 million mark, although the average rate sits at $868,817. Most homes in this area are luxury residences featuring indoor or outdoor sports courts, a guest cottage, private spas, and pools, along with multiple garages with limo parking spaces.
With a population of around 14,671, the median household income here is $85,299.00 - a bit lower than some of the other names on this list, but certainly something to be reckoned with.
Located in the northeastern part of San Diego, Rancho Peñasquitos is a suburban community that traces its origins to being the region's first Mexican land grant.
Peñasquitos means 'little cliffs' in Spanish, and true to its name, the region borders the Los Peñasquitos Canyon Preserve — a paradise for trekkers and bikers with its wide-open trails, hillsides, and roads.
It forms part of the Poway Unified School District, an expansive school district in the county. Striking the perfect balance of outdoor events with school districts, Rancho Penasquitos is a community hub for holistic education.
It has excellent recreation centers where annual street fairs and other local events are regularly hosted, making it a great neighborhood full of welcoming residents - the area has a long-standing history with nonprofit events, and regularly bands together to support worthy causes.
Rancho Penasquitos offers high-end amenities, safe and wholesome environments, and a whole range of luxury options for shopping, entertainment, and dining.
With a population of 60,519, the median household income of Rancho Penasquitos residents is $144,186, while the average property rate sits at $1,024,152.
Conclusion
San Diego ranks high when it comes to rich and comfortable cities in the US.
Its prime and prestigious neighborhoods are what dream communities are made of – inspired living with a quiet elegance permeating its spaces, scenery, and structures.
Whether you're in search of a calm, safe, and friendly community or an area with splendid nightlife and glitzy attractions, the neighborhoods in San Diego offer something for everyone.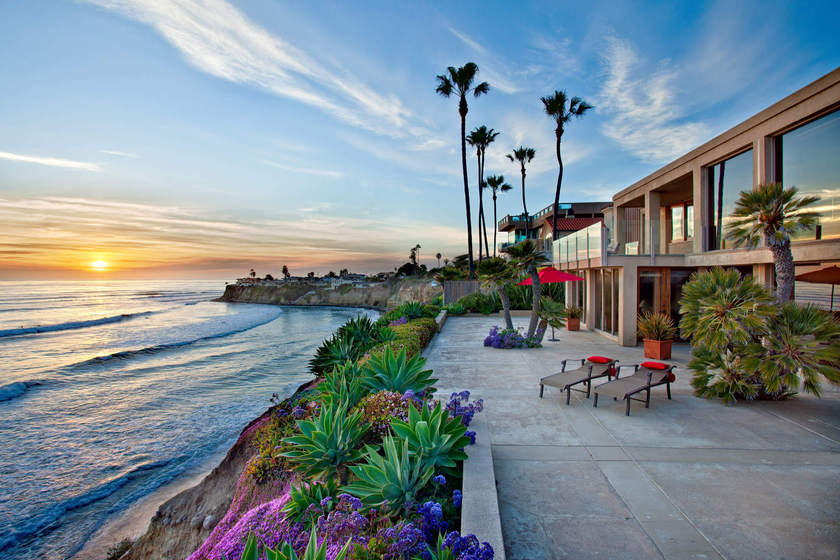 Own a home in San Diego and you want to get a personalized home valuation for it to see how much you can walk away in profit in this exciting market? See Now ›
From stunning ocean views to refined designer homes, deluxe shopping and dining, and outdoor charm at its best, San Diego's finest communities are packed with features and amenities fit for families that love the finer things in life.
Those wanting more information about any of these neighborhoods, or get information about other areas in San Diego County, Leave me a comment below.
☎ I would love to help assist you with your home purchase, home sale, or home loan - please feel free to give me a call, text, or use the form below.
Your Rich Insider,
Scott
Get Scott's Personal Help Below...
Where Do You Want To Go Next?
By clicking "Send" I/We agree by electronic signature as stated below: 1) To be contacted by telephone even if the telephone number appears on a State/National Do Not Call registry or any company's Do Not Contact lists. 2) To this website's Privacy Policy and Terms of Use.
See San Diego's Newest Listings Below...