Whether you're looking to buy, sell, or get a mortgage loan in San Diego – my team and I keep you updated with all the latest alerts, trends, and up to the minute information you need to know to stay one step ahead of everyone else.
And, this is exactly why we like to compile a list of San Diego's Best so you know exactly which companies to use in case you have to survey land, design your dream house, improve your garden, or build your house.
Here's a quick rundown of our list:
Without further ado – let's jump into our list of San Diego's Best 25 Stucco Services Companies 2020 | 2021.
See the latest San Diego homes, townhomes, and condos for sale here…
Stucco Maestro - San Diego, CA 92103 - (619) 302-4585

Review from Yelp:
We hired Marcus and Stucco Maestro to completely re-stucco our home and all hardscape. At every phase of the project, Marcus was upfront, honest and very easy to deal with. They did everything from sand blasting, remediation of (considerable) structural damage and new stucco. His team of craftsmen were unbelievable and the finished product is beautiful. We have had multiple people come up to us saying that it's the best looking stucco they have ever seen.
I could not be more happy with the job they did, and cannot recommend them more highly.
MR. STUCCO MAN - San Diego, CA 92103 - (619) 981-0851

Review from Yelp:
Excellent work and excellent customer service! The crew exceeded my expectations on my home stucco repair.
Stucco Repair San Diego - 1520 Galveston St San Diego, CA 92110 - (619) 275-7300

Review from Yelp:
Hired them for some minor stucco patching and painting. I was able to schedule immediately and they did a great job with the work and even color matching. Very reasonable price. Will definitely use them again
Legendary Stucco - P.O. Box 1682 Bonita, CA 91908 - (619) 757-4512

Review from Yelp:
Keith was amazing. We have an old house that the stucco is coming off the wall so we received many estimate to repair it. However, it was only Legendary Stucco that educated us about the extent of the damage and told us what needs to be repaired before they can start their work. Thus saving us money in the long term. They were honest, very professional and they have been doing this for four generations. Thanks Legendary Stucco team.
Dwayne Roy Snider Stucco & Plaster - 729 B Ave San Diego, CA 92118 - (619) 646-5862

Review from Yelp:
Showed up on time and stayed with it until 100% done - pleasant, professional, great job of protecting site and thorough clean up. Lots of little repairs involved, some art to blend it as well as good, solid craftsmanship. Fair price, right down the middle of estimated range. Highly recommended.
Apptek Stucco - 10685 Roselle St San Diego, CA 92121 - (858) 875-1850

Review from Yelp:
Apptek just finished our job and they executed everything with great care and pride, something rare in today's world.The Santa Barbara finish was flawless.They had to repair a fireplace front that was badly burned and it looks like new again as though nothing had ever happened.A house is only as good as it's finish and I'm grateful for how our house looks.We'll enjoy it for decades.Thank you Apptek!
San Diego Homeowners: We have qualified buyers desperately seeking to buy immediately and pay top dollar…
Nurse Stucco, Inc - 12030 Short St Lakeside, CA 92040 - (619) 561-7429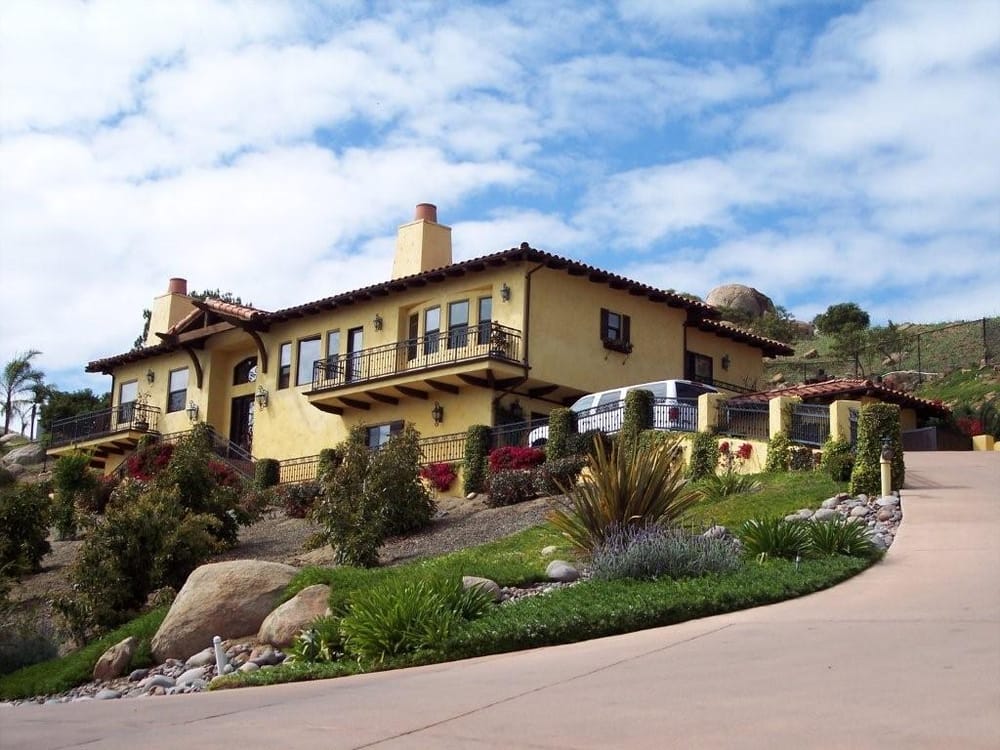 Review from Yelp:
Blaine Nurse is a standup guy. He's a busy character but he gets the job done with the utmost quality.Very kind personality and has highly experienced people working for him. I would recommend Blaine for any sized job.
Approved Contractor - 5173 Waring Rd San Diego, CA 92120 - (619) 933-8306

Review from Yelp:
We really liked our house siding and the prices seemed very competitive. They did a great job!
McCarthy Painting - 1490 Cuyamaca Way San Diego, CA 91911 - (858) 688-6719

Review from Yelp:
We chose McCarthy painting based of their 5 star reviews and price. Their quote came in significantly less than another 5 star company and they had a few money saving idea for us which I really appreciated. After we signed a contract with McCarthy their guys were out 1 week later to start the job. All of the guys working the job were very friendly, clean, and respectful. A few days after the job was done Brendan followed up to make sure we were happy with the color (Which we LOVE, Rodrigo helped me pick out from a few samples) and if any touch ups were needed. We didnt find many but a few spots of white showing so they came right back out to make sure we had the perfect job. We also had one outside light not working which they fixed. We are very happy customers and will be recommending McCarthy!
Stucco Solutions - Golden Hill San Diego, CA 92102 - (619) 972-9377

Review from Yelp:
Great people to work with. I am a general contractor timing and craftsmanship are critical to my final product. Stucco Solutions was there when they said they would be and provided excellent craftsmanship matching the existing conditions.
Maverick Painting - Cardiff By The Sea, CA 92007 - (760) 274-3373

Review from Yelp:
We used Maverick Painting to freshen up our office space in Solana Beach - Jamie and his team were so kind, professional and did a wonderful job! We will definitely be calling them again and highly recommend them!!
---
Blog Post Interrupt – When Should You Cancel Escrow?


Now Back to the Blog Post
---

Mac Plastering - 3494 Citrus St Lemon Grove, CA 91945 - (619) 741-5786

Review from Yelp:
Excellent work. Timely, responsive, and professional. I had a small project, but I was treated like a customer with a much more significant size job. I will definitely use MAC Quality Plastering for my future stucco projects.
Be an expert on San Diego real estate – see all active, pending, and sold listings within the last 3 years now…
Kosh Construction and Handyman Services - San Diego, CA - (858) 529-5020

Review from Yelp:
Can I give this place 10 stars???? I reached out to so many handymen before going with Kosh. Brad and his team were the most responsive, most reasonably priced, and timeline wise, was most reasonable as well. Getting work done on your house by people who know what they're doing is not always easy. I wasnt sure what to expect, but they really restored my faith in finding good help!
They showed up on time, did an amazing job, and even came back when we wanted them to touch up some things. They were courteous, efficient, and clean. I'm saving their number for another day. Thanks so much brad!
Advanced Drywall and Plaster - 1901 First Ave San Diego, CA 92101 - (858) 761-1129

Review from Yelp:
Daniel was extremely responsive and on point with his work and scheduling. I had a need for a very quick turnaround and he fulfilled that exactly without sacrificing workmanship. I had called many other companies as well and Daniel was the most responsive and reasonable bid I got. Communication is key in today's world and Daniel knows that he has to respond asap to get the job done and impress the customer. Highly recommended to anyone who needs his services. I will be using him again and again.
Lemon Grove Stucco Inc. - 1057 Elkelton Blvd Spring Valley, CA 91977 - (619) 482-0022

Review from Yelp:
Lemon Grove Stucco originally did stucco work on our house in La Mesa in the early 2000's .Over the years due to earth movement, there was a problem of stucco at the bottom edge of the house cracking where it met the concrete patios.Cliff has sent his crew out on 2 occasions and done a wonderful spot repair. The technicians will walk around the house and repair anything that needs attention even if it had not been noted before. We also like the style of texture they use.
Cliff has never wanted to charge us but we feel since this company is so honest and had always done a great job, we always pay something for a job well done.
Thanks
John P
La Mesa
Kirckof's Custom Painting - San Diego CA - (619) 871-7301

Review from Yelp:
Thanks Dan and Sons and all, for a super expert job on painting my exterior. Top quality, can't be beat.
If you are a first time home buyer, move up buyer – or, need money for your down payment and/or closing costs – San Diego has many different options to choose from here…
Don't Blink Painting - 4066 Crown Point Dr San Diego, CA 92109 - (858) 405-3744

Review from Yelp:
We worked with Myron and Arturo to paint our condo, as well as to add a few updates including smoothing out popcorn ceiling and to put in crown molding. We couldn't be happier with the outcome. Our place looks fantastic and better than we could have ever imagined. They were so wonderful to work with, provided us with updates along the way, were always available to answer our questions, and got the work done fast. They also provided great feedback and advice. We recommend them to everyone we know. If you are looking for someone to paint or help you with these kinds of updates for your home, definitely give them a call.
JRP Plastering and Stucco - 3456 Hollyberry Trl Vista, CA 92084 - (760) 727-4217

Review from Yelp:
Joe and his amazing crew transformed my house from dark, dingy and dated to gorgeous and charming. Being on a corner, the house is noticed by every passerby. After JRP Stucco finished a remarkable makeover, many people stopped and complimented me on my beautiful "new" yellow French Cottage-looking house.
I couldn't have been more satisfied, and pleased working with Joe; a real professional, courteous, and detail oriented visionary! Not only is his work perfectly executed, the job was done with lightning speed until completion. JRP is truly the truly best in all of San Diego.
Advanced Exteriors - 8203 University Ave La Mesa, CA 91942 - (619) 741-6615

Review from Yelp:
We had our house painted by Advanced Exteriors about a year ago and the work they did is really five stars. The team that worked on our house were very professional and knowledgeable. Very detailed all around and they finished the job just in time before all the rain we got recently. We are very happy we chose Advanced Exteriors to paint our house. Martin really made our house look awesome with the Rhino Shield. I'm sure it will stand the test of time. I Will be recommending this company to all my homeowner friends in the future. Only good things to say about Advanced Exteriors. Really good job guys thanks a bunch.
Armor Tek - 7770 Regents Rd San Diego, CA 92122 - (858) 504-1001

Review from Yelp:
Just hired them for the second time, great job. Last year they did my interior of my home and this year was time for my exterior.They came in did the Job and left things just the way they were.Very professional and I highly recommend, don't go with the cheep guy who will drive you crazy, hire a real professional.
Chula Vista Painting Co Home Improvements - 1034 Neptune Dr Chula Vista, CA 91911 - (619) 422-0222

Review from Yelp:
Luis was very professional and responded quick from the start. His pricing is very reasonable and his attention to detail is excellent. Him and his team finished painting our home exterior in 3 days and they did an amazing job. Our house looks new! Definitely recommending Luis and his team to everyone I know!
Lingol Construction - San Diego, CA - (619) 818-4080

Review from Yelp:
We had Alan of Lingol Construction install all new windows, siding and front door to our aging Bay Park home. Though it took a bit more time than stated, we couldn't be happier with the final result. It has transformed our ugly duckling on the block to one of the nicer looking homes. Nearly weekly we receive kudos from our neighbors. Thank you Alan! See the attached pics of the grey shingled house!
EmpireWorks Reconstruction and Painting - 9938 Prospect Ave Santee, CA 92071 - (888) 278-8200

Review from Yelp:
Empire is presently doing major wood repair and painting for our condo complex. They started on my block a week ago after finishing work on the other two streets. The complex was built in 1974 and the results are astonishing. The completed units look fresh and bright and decidedly better-looking than the two adjacent complexes. I had occasion to meet the foreman who was doing the preliminary inspection of the eaves and fencing. He was extremely courteous and informative, and replaced all the patio furniture exactly as it had been. Yesterday was trash pickup day, and when I went to retrieve my bin, I was upset to see that for the second week in a row someone had dumped a huge, smelly, maggot-ridden bag of garbage into it after the truck was gone. The crew was nearby and I asked if they were responsible. They assured me they hadn't done it. Without prompting, one of the crew members took my bin, wheeled it to the end of the cul-de-sac and tossed the garbage into the construction dumpster. When he returned, he asked if he could use my hose to rinse out any remaining insects and to help rid it of the smell. This is going way above and beyond the call of duty. This crew has been working during some of the most miserable weather San Diego has experienced and it would be normal for nerves to be frayed and morale low. So far I'm impressed with the quality of the work and most of all, the quality of the crew. After the job is completed, I fully expect to give Empire a five-star rating.
Convinced San Diego is for you? Apply online in 20 minutes or less, from anywhere, and find out how much you qualify for, to start searching in San Diego right now…
What do you think?
Do you agree with our list of San Diego's Best 25 Stucco Services Companies 2020 | 2021 or did we leave anyone out?
Leave a message in the comments section below – or call or text me at (760) 297-4539.
Your Stucco Services Insider,
Scott
7 "Did You Know" San Diego Loan Secrets Revealed!


Get Your Fast and Free Rate Quote Now!
By clicking "Send" I/We agree by electronic signature as stated below: 1) To be contacted by telephone even if the telephone number appears on a State/National Do Not Call registry or any company's Do Not Contact lists. 2) To this website's Privacy Policy and Terms of Use.