San Diego's Best 10 Beaches in 2021
Posted by Scott Taylor on Monday, June 14, 2021 at 7:00 PM
By Scott Taylor / June 14, 2021
Comment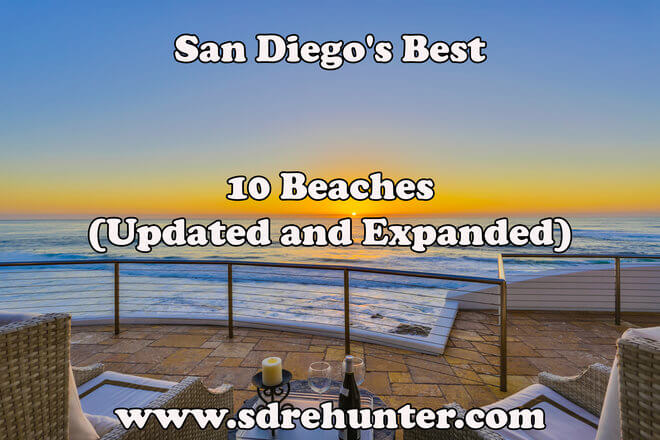 The beach is one of the best places to hang out when the weather is right and you just need to do something relaxing.
It is also a great place to catch some rays, enjoy nature, and everything the great outdoors has to offer.
No matter what you are looking for in a beach location, San Diego has what you need.
There are places to swim, dive, play games, glide, and pretty much anything else you'd want to do, so you don't have to go out of town to find a place to do your favorite beach activity.
If you're vacationing in the city, you will still be able to visit many of these beaches, since most are not private.
However, since a great section of the city is on a major coast, some of these beaches are connected, so you might find yourself walking through nearby beaches to get to the one that you really want to see.
San Diego has beautiful weather for most of the year, so don't just sit inside all day, when you really want to go outside and enjoy the fresh air.
Here are the top beaches to go to, which are presented in alphabetical order.
Here's a quick rundown of our list:
That means it's up to you to decide which one is the best.
The only way to do that is to get out there and try them, so put some sunscreen on and go have some fun in the sun.
See the latest San Diego homes, townhomes, and condos for sale here…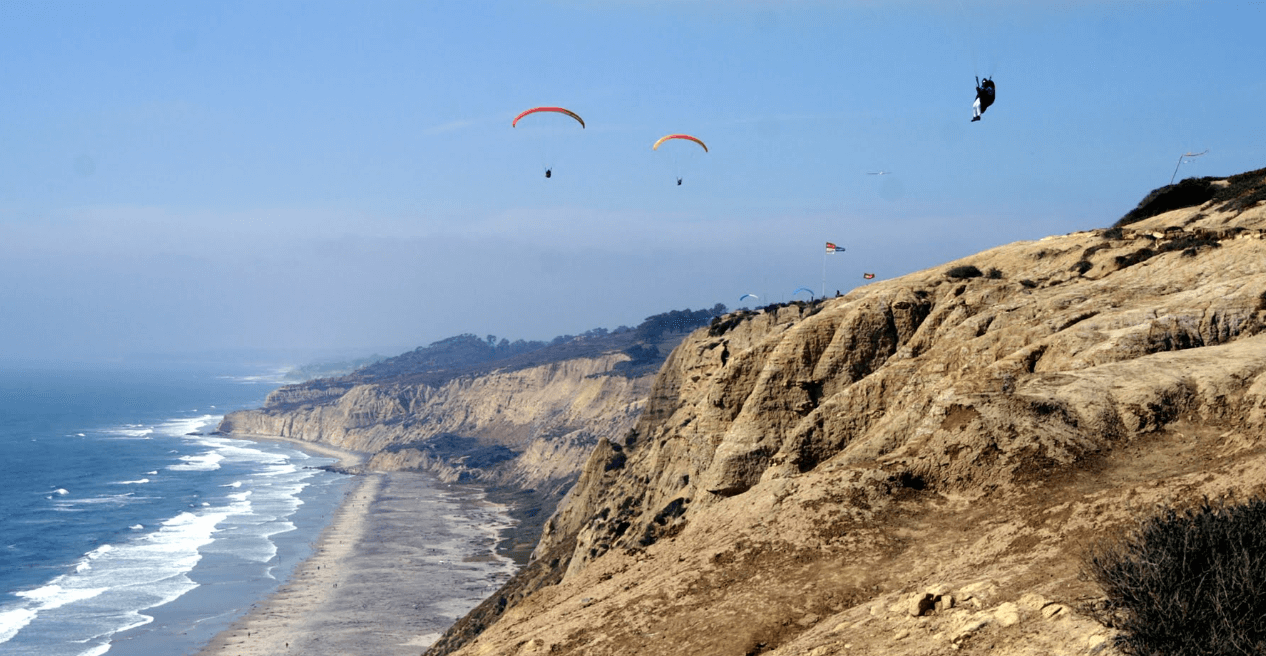 This beach is also known as Torrey Pines State Beach, so there's no reason to get confused if you haven't heard of the place as Black's Beach.
This is a great beach to go to if you are interested in doing some hang gliding.
There is a tall cliff measuring around 300 feet that is perfect for hang gliding and other types of gliding, as well as other fun outdoor things.
The beach itself is 2 miles long and is sandy, so it is fun to walk along or bask on the shores for an authentic beach experience.
See San Diego's latest housing stats...
Besides that, it has a permanent lifeguard on duty, so you really don't have to worry about your safety or the safety of the ones around you.
However, it is important to note that you are unlikely to be able to get directly to this beach.
You may have to walk through another nearby beach to get to this one, since it is situated near rocky cliffs that are also steep and high off the ground.
It is also known for its great waves and because there is a chance that you can see some really cool wildlife, like dolphins in the water.
If you want to see even more, there are lots of large houses to gander at when you're visiting this beach, since it is in a rather upscale neighborhood.
You may even spot a celebrity nearby if you look hard enough.
See La Jolla homes, townhomes, and condos for sale here...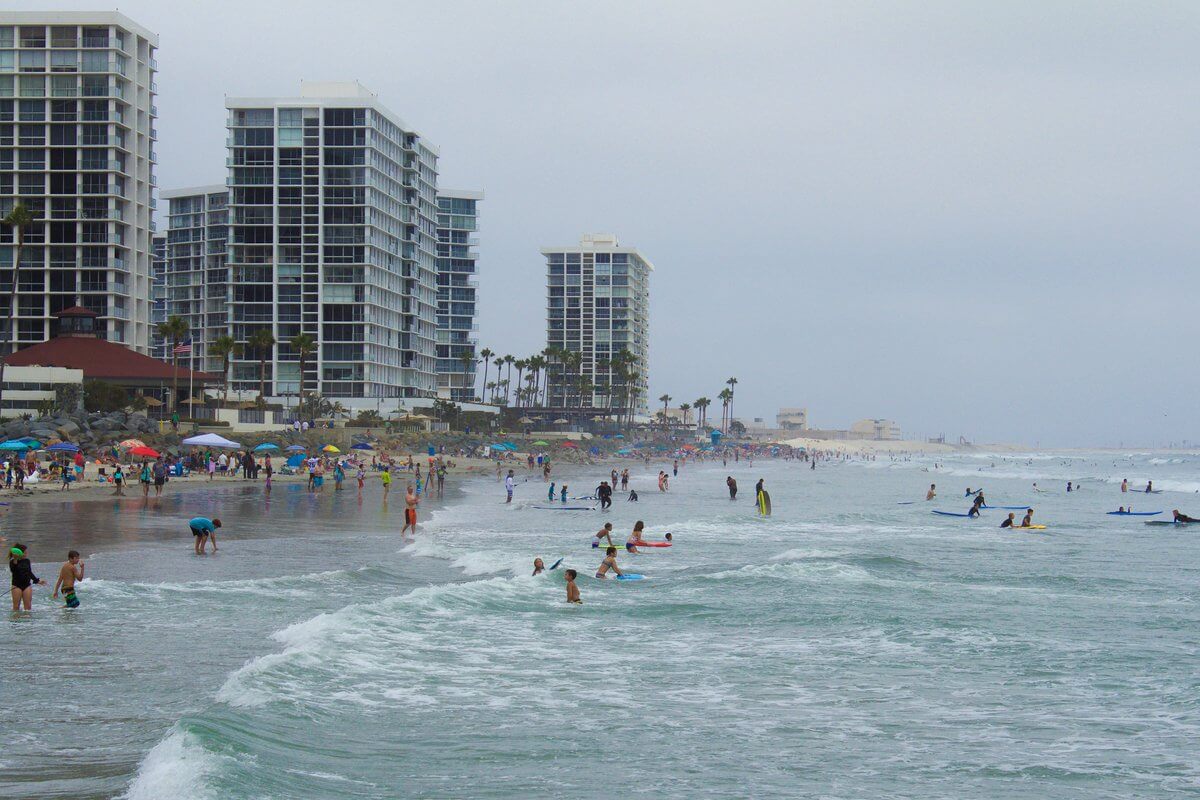 This beach is not always mentioned when you are looking into beaches in the area.
This is due to the fact that the beach is located on Coronado Island, where you actually have to take a bridge to get to the beach.
Once you get there, you won't care because not only is the coastline beautiful, but there is more than one beach to take advantage of.
There are actually many beaches to take advantage of on this island, which means there is sure to be plenty of room for you and your family.
There is also a lot to do in this area including volleyball, tide pools, fishing, and of course swimming and sunbathing.
The 5 San Diego real estate trends I am seeing right now...
Many people visit this location because of the different types of surfing and boarding you are able to do.
There are lifeguards during the warm seasons that are always patrolling the beaches, as long as the weather allows it.
At night, you can use the fire pits to roast some food or stay warm, as they are found up and down the beach.
When it's time to leave, you are still covered because there are bathrooms and showers, so you can rinse of and change clothes before heading home.
Furthermore, if you are staying on the island, there are plenty of places to eat, historic places to stay, and great festivals that take place throughout the year.
See Coronado homes, townhomes, and condos for sale here...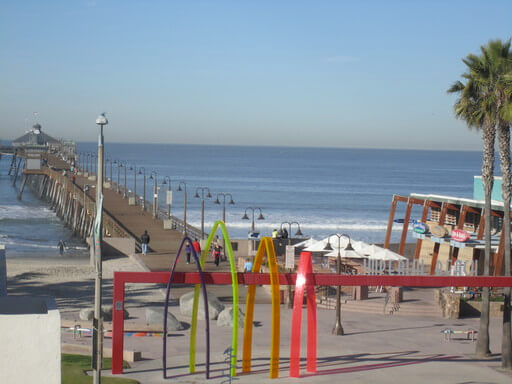 This beach is located at the southern tip of the California coast.
If you go south any further, you will actually be in Mexico.
Imperial Beach is also the name of the area, which features almost 4 solid miles of beach.
The beach is actually separated by the border, with an American side and a Mexican side.
There is a fence that separates them, but it doesn't obstruct the whole view, so technically, you'll be able to see into another country and admire their beach at the same time.
5 mortgage trends to know now...
There is a long pier that you can walk across and this place is said to have some of the best surfing in the area, so if you are looking to catch some awesome waves, you'll want to visit this beach to see what the fuss is about.
Surfing is actually a large part of the history of this town, which you can clearly see when you look at the plaques in the area.
There are also noteworthy events that take place on this beach, including a beachfront farmer's market each weekend for most of the year, and the country's largest sand castle competition.
Additionally, you can enjoy bird watching in the area or even visit the nearby aquarium if you get too hot outside.
It is advised that you only swim in the water around the pier as much of the other areas of water are polluted or contaminated.
However, that won't keep you from sunbathing, shopping, bike riding, or the many other things that are unique activities near this beach.
See Imperial Beach homes, townhomes, and condos for sale here...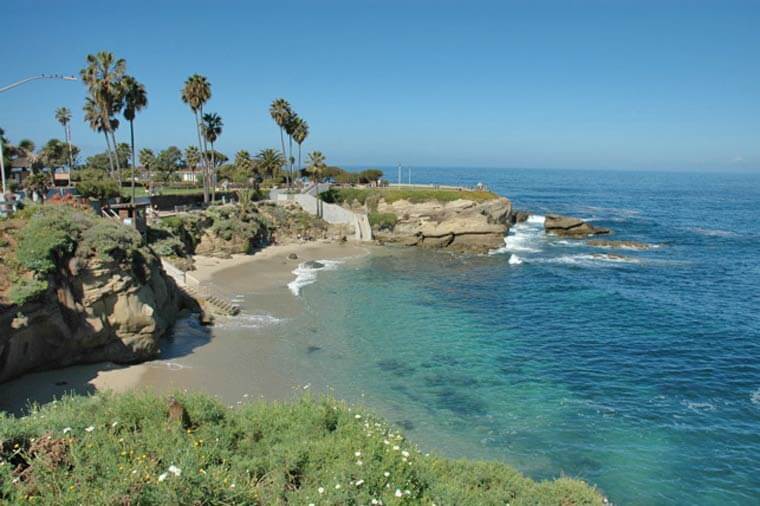 This is a small beach, but it is in a beautiful area.
It is hiding behind cliffs that are made of sandstone, so you many not even notice it unless you have seen it before.
However, it is enjoyed by photographers, so you may have seen pictures of it and didn't know.
This can make it seem a little bit familiar to you when you visit, which is a good thing.
See the latest San Diego mortgage rates...
There aren't a great number of waves in the area, but in the hottest months of the year, it is perfect for things like snorkeling and scuba diving, so there is lots of fun to be had at this quaint beach.
Other activities that people take part in here are kayaking and hanging out in the adjacent park to admire the gorgeous view.
There are lifeguards in the area, as well as areas for showering and eating, so you are fully covered when you want to spend a day at this beach.
An important thing to know is that this locale is part of a reserve for marine life, so there is absolutely no fishing in these waters, but there are no rules that prohibit you from having fun and relaxing.
See La Jolla homes, townhomes, and condos for sale here...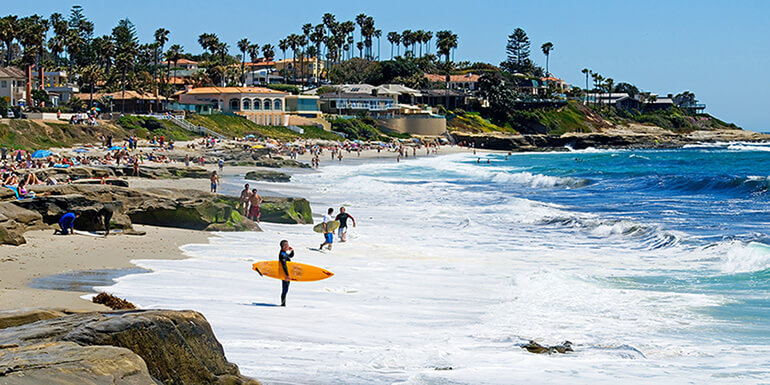 This beach is about 1 mile long and backs up into many different types of businesses and homes, so there is plenty to take advantage of in the area, even before you hit the beach.
It is also part of a wildlife preserve and museum, so there is no fishing allowed at this beach either.
There are many other things to do though, such as playing volleyball, places to picnic, fire pits to use, scuba diving, kayaking, surfing, and there are showers for when you are feeling too sandy.
5 San Diego cash buyer hacks to know...
Besides that, there is a boat launch, which is the only one in the area that is right on the beach, so it can come in handy.
There is also a playground in the area and special wheelchairs available for the disabled, so they can enjoy the beautiful landscape as well.
Some feel that this is the best beach in the area because it is easy to access and due to the fact that there is so much to do around the area and on the beachfront.
It is definitely a popular area for people that want to get in the water, as well as those that want to see all the great marine animals that frequent the waters.
In essence, this beach has something for everyone, as well as breathtaking views that you don't want to miss if you happen to be in the area.
See La Jolla homes, townhomes, and condos for sale here...
---
Blog Post Interrupt
The 5 San Diego Real Estate Questions I Get Asked the Most...


Back to the Post
---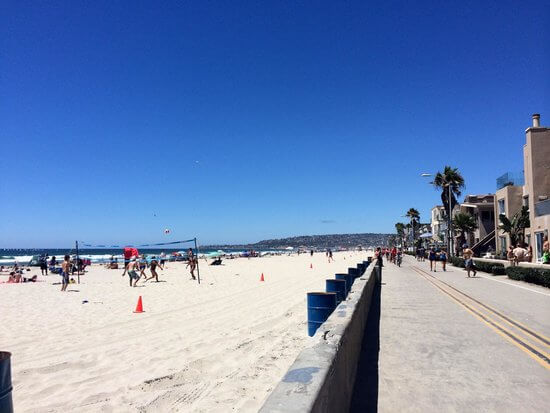 This beach is situated on a long stretch of land that is also called Mission Beach.
Since the area is built on a sandbar, there is also a large pier to walk along and picnic tables, so you can bring your lunch on a special day.
It is also legendary among people that want to take part in beach sports, such as volleyball because it is the perfect location to do so.
There are other amenities in the area that are noteworthy as well, including an amusement park and Sea World.
How to buy a San Diego house site unseen...
Some of these amenities were placed there in the early 1900's, as a ploy to get people to want to use the railway and to create a desire to move into the area.
Some of the beach is also accessible very easily, since there are free parking lots nearby, so you can't expect this beach to be empty very often.
This is a great place to take your family, and there are even times of the year when dogs are welcome.
You can also visit the arcade, use the bike path, skate, or eat at the restaurants nearby.
There are even bars in the area if you are hanging out in the evening after work, or on the weekend.
In essence, this beach has everything you need for a getaway, where you can forget about your problems or take part in great outdoor fun.
See Mission Beach homes, townhomes, and condos for sale here...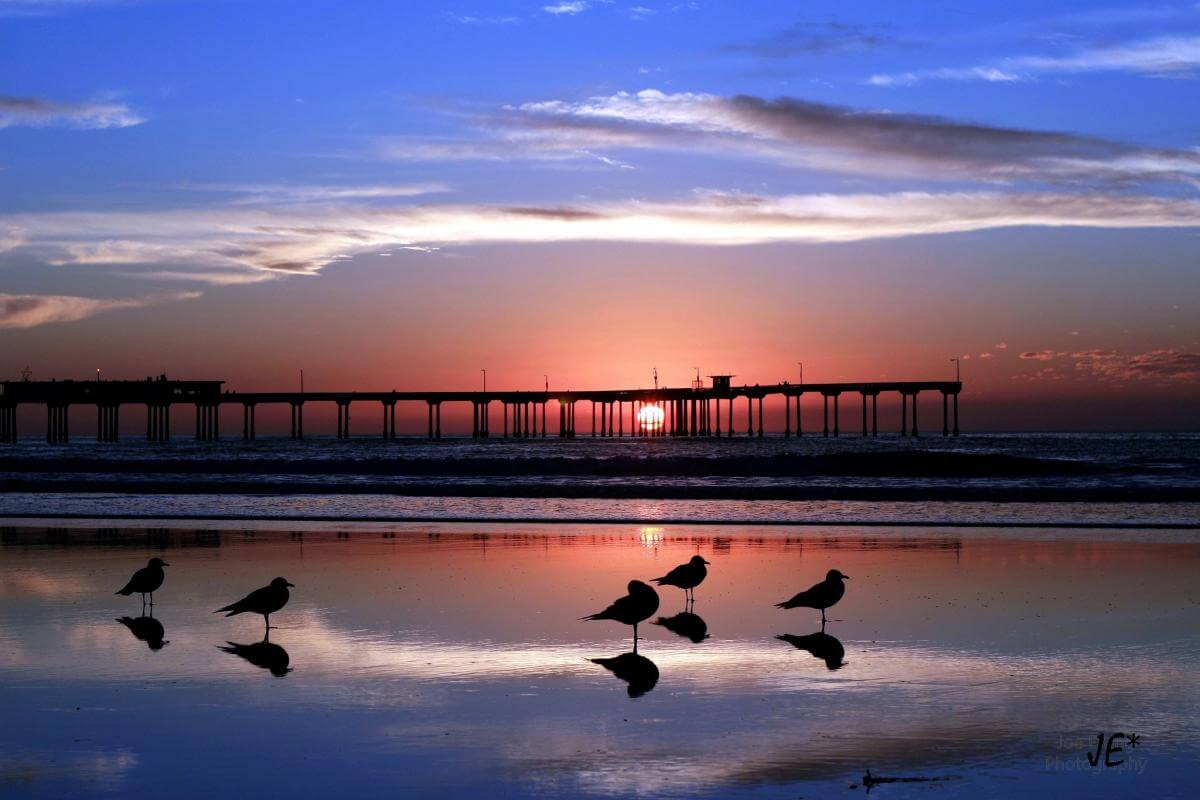 This beach was originally called Mussel Beach because mussels were found in the area.
However, in the late 19th century, the name was changed to Ocean Beach, which is the title that stuck around.
This is a great area to visit when you want to have fun and hang out with people that really know the area and enjoy it.
The main beach is a great location for swimming and surfing, as well as all the different amenities you need to get cleaned up after being in the water.
There is also a place in the area called Dog Beach, where your furry friends are always welcome.
Is San Diego 2021 like San Diego 2007?
There are rules to follow once you're there, but it is the perfect place for your pooch to be free, walk along the beach, or go for a swim.
Think of all the fun they will have and you can sit back and watch them be carefree and go wild.
You are also able to do some fishing in some areas of this beach, and you can do so without a fishing license.
This means you will see a lot of determined fisherman at any given time, which offers a little something extra if you enjoy people watching.
After dark, you can do some retail therapy nearby, eat at a nice restaurant, or grab something cold to drink.
Basically whatever you want to do in the area is available and many of the options are beachfront, so you don't even have to get in your car and leave the parking lot.
See Ocean Beach homes, townhomes, and condos for sale here...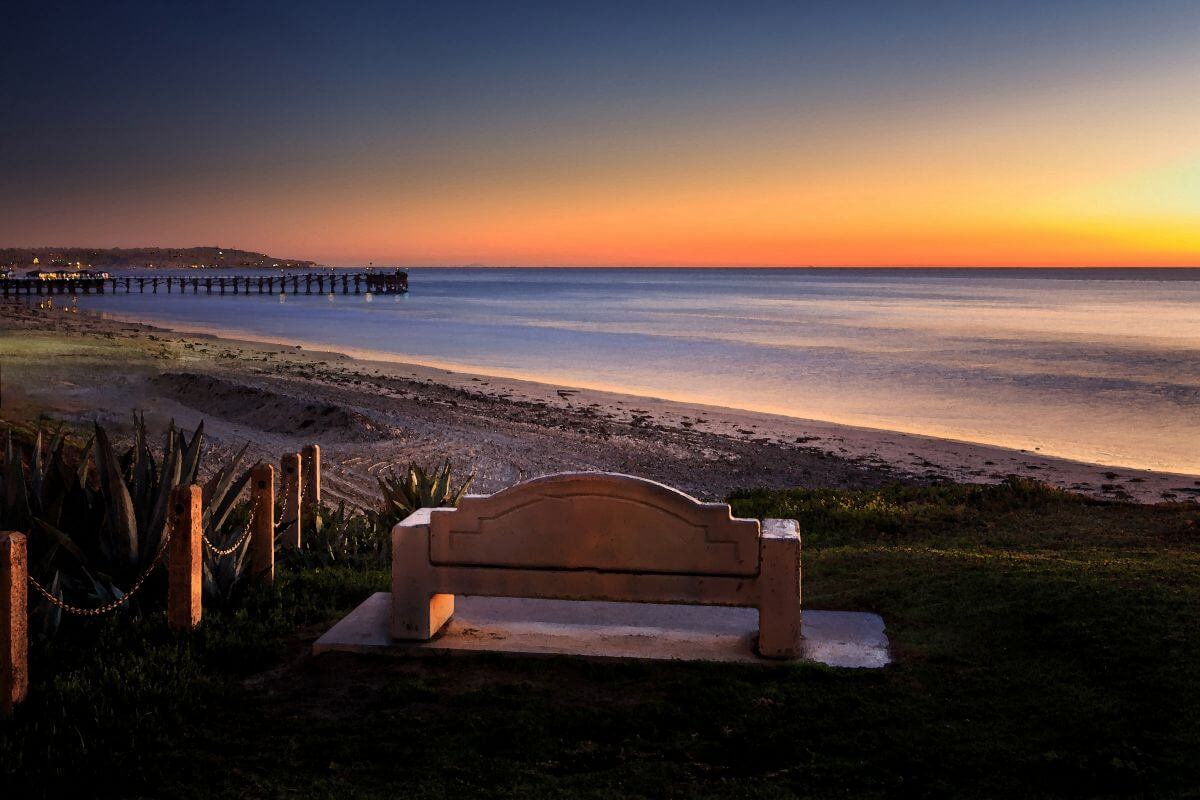 This area has miles of beaches as well as a long boardwalk to troll to see what they have to offer you.
There are 3 major beaches in the area: Tourmaline Surfing Park, Pacific Beach, and North Pacific Beach.
Tourmaline Surfing Park is a great place for all of those that want to surf or do any other types of boarding, and can be taken advantage of by beginners or people that have advanced skills.
San Diego's latest townhomes/condos for sale...
The other two beaches are family friendly, and there are many young people that love this area of town, especially college kids and young professionals.
This is mainly due to the fact that there is plenty to do at this beach, including fishing, swimming, and sunbathing.
Moreover, you are able to scour the boardwalk for places to eat and drink, and there is even a pier to enjoy and gaze out at the water.
Locals report that the parking for this beach can be a nightmare, so plan your trip ahead of time or leave your house earlier to find a place to keep your car all day.
Other than that, there are paid lots you may have to take advantage of, which isn't that much of a hassle.
See Pacific Beach homes, townhomes, and condos for sale here...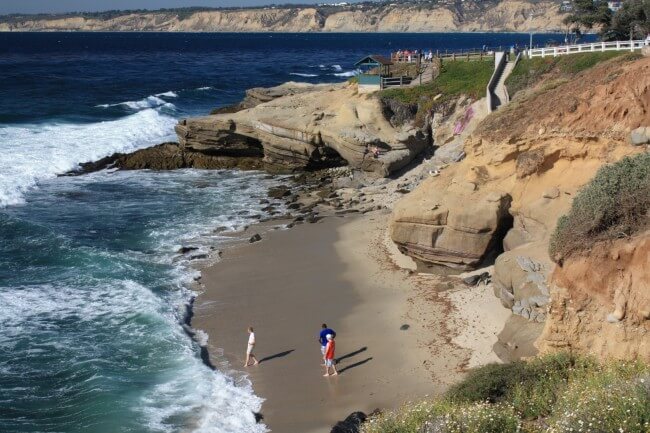 This beach gets its name from the fact that you can collect lots of shells on its shore.
It is also another beach that is small but offers you something a little bit outside the norm.
The latest San Diego homes for sale...
For one, you are only able to get to this beach by descending a flight of concrete stairs.
These stairs are found at Scripps Park, which is a great park that encompasses an area near numerous other beaches in the area, so it can be a central location to meet up or take a break from swimming.
Other amenities are a tide pool area for kids at low tide, swimming, snorkeling, and there is a lifeguard is on duty all the time.
If you spot a large rock when you're walking along this beach, it is known as Seal Rock, since there are often many seals that like to hang out nearby.
Perhaps you'll see some or catch a peak of other cool wildlife that inhabit the area.
See La Jolla homes, townhomes, and condos for sale here...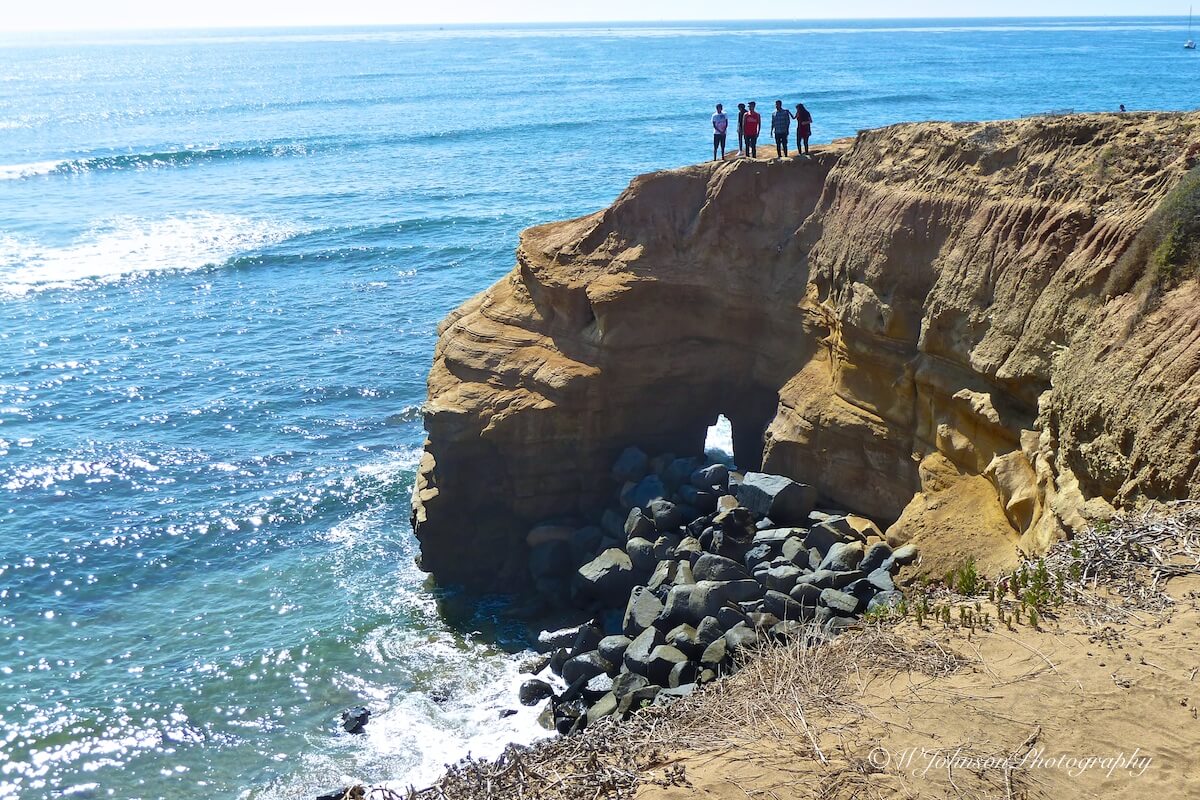 As you can imagine by the name, this area has many cliffs nearby.
It is a relatively small beach but is a popular place to watch the weather or break in your new camera or camcorder.
It is part of a city park that features areas that are perfect for surfing and just hanging out.
Many people visit this spot just to watch the sunset, as it is thought to be one of the best places in the city to see this stunning sight.
Are you looking for a 2 unit, 3 unit, or 4 unit property?
Additionally, there are benches, areas where you can ride your bike, and lots of rocky sections to explore, albeit very carefully.
There are no restrooms available however, so you may not be able to hang out here all day, especially if you have young children.
Another cool thing is that you can get married on the largest cliff in the area, but the ceremony must be small and planned well in advance.
Overall, this beach is really great for watching the water, the sky, and the animals, but not great for doing other beach activities.
That doesn't mean you can't surf or swim in the area though, so don't think you can write this one off.
See Point Loma homes, townhomes, and condos for sale here...
Now, let me turn it over to you -
...what's your favorite beach in San Diego and why?
Leave me a comment below – or, contact me here.
Your Beach Lovin' Insider,
Scott
Where Do You Want To Go Next?
By clicking "Send" I/We agree by electronic signature as stated below: 1) To be contacted by telephone even if the telephone number appears on a State/National Do Not Call registry or any company's Do Not Contact lists. 2) To this website's Privacy Policy and Terms of Use.
See San Diego's Newest Listings Below...
Get Scott's Personal Help Below...