San Diego's Best 5 Private Country Clubs in 2023 | 2024 (New)
Posted by Scott Taylor on Sunday, March 26, 2023 at 7:43 PM
By Scott Taylor / March 26, 2023
Comment
The impression many people have of country clubs comes from the movie Caddyshack. We admit that some Judge Elihu Smails characters are in the place, which can be a real pain. However, a country club does serve a purpose that isn't always noticed. It is more than a clubhouse that allows middle-aged men to drive around a putting green in a golf cart.
READ: San Diego vs. San Francisco: Which California City is Best in 2023 | 2024?
A country club is a place where business is conducted. Members invite customers, clients, and patients to enjoy a round of golf or perhaps a nice dinner with a great view of the golf course. Many business deals have been concluded somewhere between tee time and the 18th hole.
READ: San Diego vs Orange County: Which Socal City is Best in 2023 | 2024?
It is a status symbol for many hard-working folks. Membership is a reward for all kinds of hard work and successful business activity. It lets a person know all the effort finally paid off.
READ: San Diego vs. San Jose: Which California City is Best in 2023 | 2024?
We are going to look at what we think are the best private country clubs in San Diego. We don't have any preferences, and we will list these clubs alphabetically. But, before we do that, we will take a look at why country clubs are essential and what to look for when you are in the market for something private and exclusive.
VISIT: San Diego's Top 5 Luxury Home for Sale Markets in 2023 | 2024
Here's a quick rundown of our list:
Why Join One?
There is more to the decision than snob appeal. Being a country club member might impress your neighbors, but there are other reasons to join.
1. Golf Heaven
A primary reason to become a member is the ability to play almost as much golf as you want (there is never enough time on the green for a serious golfer). Country clubs promote golf and what is great about the association is that many clubs will not charge a fee for playing. Clubs also employ professional golfers to teach novices how to play the game. Don't be surprised if the more exclusive clubs use golfers known on the PGA Tour as teachers.
TOP POST: San Diego Mortgage Rates: Trends, Predictions, & Forecasts in 2023 | 2024
2. The Facilities
Country clubs look marvelous and often have excellent dining facilities with top-of-the-line chefs and cuisine. They are amazing places to take the family for a dining experience without the hassle and noise you endure in a restaurant. Country clubs will also permit members to use the space for private affairs.
JUST UPDATED: San Diego's 7 Best Places to Live in 2023 | 2024
The ability to use the space is important. Anyone who has to schedule a wedding reception venue, or a special event understands how tough it is to get event space at a reasonable price. Club members can reserve event space that the general public cannot use and at low rental rates.
JUST UPDATED: San Diego Real Estate Market Forecast in 2023 | 2024
Clubs will make using their event space worth your while. Depending on the services provided, a member can have a full-service venue package. This might include catering services, an event planner to organize an activity, and other amenities that will make the event something to be remembered for years to come.
READ: 6 Reasons San Diego is California's #1 Real Estate Buy in 2023 | 2024
A country club is not a bar and grill. There are behaviors that members expect other members to show, and the peer group pressure guarantees that a touch of class and etiquette permeates the grounds. There is a family atmosphere at most clubs that makes it safe to bring children.
TOP POST: 5 San Diego Housing Predictions in 2023 | 2024
Country clubs are more than golf greens. Many include swimming pools and tennis courts the whole family can use. The clubs are places where children can learn to play golf, how to swim and to play tennis. These and other necessary social skills are taught at a country club
VISIT: San Diego's 7 Wealthiest Neighborhoods in 2023 | 2024
Creating a New Peer Group
People who join country clubs ordinarily are college-educated and successful. You will be interacting with these folks either on the golf course or at any of the members-only functions the country club will host. These members become part of a peer group that enjoys each other's company and share mutual values and interests. There are some snobs, to be sure, but most club members are friendly and interesting to talk with.
VISIT: San Diego's 10 Most Affordable Neighborhoods in 2023 | 2024
Business Connections and Networking
This is not the only reason to join a country club, but we believe it is one of the best. Many successful businesspeople enjoy golf and congregate at country clubs. In addition, there is the possibility that an informal relationship formed at the club will develop into a business deal or where clients are recruited in a low-pressure environment.
NEW POST: San Diego's Best 5 Private Country Clubs in 2023 | 2024
The club can also be considered an information hub. Conversation can turn to business and finance, and people will share their knowledge with others. A stock tip or knowledgeable observations can quickly turn to profit for a person. A member should not ignore the opportunity to use a country club for career advancement or improvement.
READ: 7 Reasons to Buy a Home in San Diego in 2023 | 2024
What to Look for In a Country Club?
Membership dues can be expensive, and you should get as much bang for your buck as possible. Country clubs are not all the same; some have higher quality than others. It would be best if you scrutinized a club before you pay that hefty initiation fee.
TOP POST: San Diego Housing Bubble? 5 Reasons Why It Won't Crash in 2023 | 2024
1. Is It an Equity Club?
This has nothing to do with theater or motion pictures. The members own an equity club, and they have a say in club operations. A non-equity club is owned by either a corporation or an individual, and the owner assumes the costs of any capital improvements without assessing the club members.
EXPOSED: The 'Real' San Diego Cost of Living Guide in 2023 | 2024
2. Is the Property Well-Maintained?
That means are the golfing grounds regularly mowed and kept in good condition. The same should be asked about the clubhouse and the pool and tennis courts, if applicable.
READ: San Diego vs Los Angeles: Which SoCal City is Best in 2023 | 2024?
3. An Explanation of All Fees
You will be paying thousands of dollars in membership fees. Where is the money going? Beyond annual dues and initiation costs, which are self-explanatory, you ought to know about incidental expenses such as food and beverage, locker rental, storage, and whether you must have a club caddy or use a golf cart. Are there any assessments that you might have to pay later?
READ: 5 (Hot) Up and Coming San Diego Neighborhoods in 2023 | 2024
4. What are the Amenities of Being a Member?
You should at least get what you pay for as a member. Restaurant discounts, a driving range, how many holes of golf (9, 18, or 27), and locker room access are some of the amenities that justify the money you pay for membership.
READ: 9 Best Places for Families to Live in San Diego in 2023 | 2024
5. What is the Fee Structure?
There are different costs for Single, Junior, Family, or Social Memberships. Therefore, it would be best if you determine which classification will fit your needs.
TOP POST: Zillow San Diego: 5 Lies, Fraudulent and Deceitful Tactics Used in 2023 | 2024
6. Are There Any Restrictions on Tee Times?
Assuming that no one plays in the dark of night by the pale moonlight (though some golfers would), are there times of the day when tee times are not allowed?
VISIT: 7 Best Places to Live in San Diego for Millennials in 2023 | 2024
7. Is the Club Family Friendly?
We are talking about children. Are youngsters permitted to play on the course, and are the club's amenities available to them? Can guests be allowed to play without having to pay?
VISIT: 5 Best Places to Live in San Diego for Military in 2023 | 2024
8. How Often do You Intend to Use the Facility?
If you are planning on only using the club a few times a year, you will be paying a lot for a little. You derive the full benefit of membership by using the facilities as often as practicable. You might consider how often you will use the club for business purposes or how often your family will be there. A club with a pool and tennis courts is frequently used by those members who have families.
JUST UPDATED: 5 Reasons to Move to San Diego in 2023 | 2024
9. Is There an Inclusivity Policy?
Senator Sheldon Whitehouse of Rhode Island was recently embarrassed by the revelation that he belonged to an all-white club. Regrettably, this was a problem with country clubs in the past, and many are trying to correct their by-laws and erase any impression that the club is racist or full of bigots.
VISIT: San Diego's 4 Safest (and Least Crime Ridden) Places to Live in 2023 | 2024
You do not want your reputation smeared from belonging to a club you did not realize before had prejudiced restrictions. We suggest that you check the by-laws or ask the Membership staff if there are any restrictions on the type of people who can be members.
VISIT: San Diego's 9 Best Beach Towns to Buy a Home in 2023 | 2024
San Diego's 5 Best
We are going to look at the best San Diego private country clubs in alphabetical order. Consumer opinion boards are objective and reflect the estimation people have of various businesses and organizations. Yelp is one of the best. So, we decided to guide us to the upper echelon of clubs in the area. So, here is what we believe are the best country clubs, with a bit of help from Yelp.
Get Pre-Approved for a San Diego home loan in 60 seconds or less – no social security number needed. Get Started ›
The club has an 18-hole golf course designed by Robert Trent Jones II. The course is ranked as a Top 20 golf course in California, with practice facilities, and the Richard C. Helmstetter Performance Centre will provide the best golfing instruction. In addition, the club has a pool, a 5-acre Tennis& Recreation Centre, and concierge services.
READ: San Diego vs. San Francisco: Which California City is Best in 2023 | 2024?
This is a private equity club with an 18-hole golf course designed by William F. Bell and updated later by Ted Robinson. The Mediterranean-style clubhouse has 20,000 sq. feet of space. Members have unlimited use of the golf course, driving range, and a short game area. In addition, various golf tournaments are sponsored by the club.
READ: San Diego vs Orange County: Which Socal City is Best in 2023 | 2024?
The amenities include an 18-hole golf course, dining, a full fitness center, four tennis courts, and a swimming pool that is kept at 81 degrees year-round. Brian Curley and Fred Couples designed the golf course, and the golf cars have state-of-the-art GPS technology to act as an on-course personal assistant for every round of play.
Get Pre-Approved in 60 Seconds...
(No Social Security Number Needed)
By proceeding, you consent to receive calls and texts at the number you provided, including marketing by auto-dialer, pre-recorded voicemail, and email, from this site's operators about real estate related matters, but not as a condition of purchase. You also agree to our Terms of Service, and to our Privacy Policy regarding the information relating to you. Message and data rates may apply. This consent applies even if you are on a corporate, state or national Do Not Call list. This site is protected by reCAPTCHA and the Google Privacy Policy and Terms of Service apply.
The clubhouse is a 55,000 square-foot structure, and Madeleine Ann Pickens owns Del Mar Country Club. Joseph Lee designed the course, and there is a No Tee Time Policy (Members can show up and start immediately). The course was named Best Private Course by Ranch & Coast magazine.
READ: San Diego vs. San Jose: Which California City is Best in 2023 | 2024?
There are six tennis courts and a Junior Olympic-sized swimming pool. What is unique about this club is its connection to several charities that include American's wild mustangs, retired military dogs, and support for the U.S. military.
Golf Digest has recognized San Diego Country Club as one of the Top 40 Best in California courses. The Southern California Golf Association's Fore Magazine in 2016 designated the Sn Diego Country Club as having the best greens in Southern California. One of the oldest country clubs in California (founded in 1897), the 18-hole course is Championship caliber and has hosted the U.S. Women's Amateur Championship, among other events. There are equity and non-equity memberships available, including a Military Membership for active military personnel.
VISIT: San Diego's Top 5 Luxury Home for Sale Markets in 2023 | 2024
Just Remember...
The questions you ask merit answers. Before we forget, here are two other considerations before you join a country club.
The distance from your home or business should not be too far. San Diego traffic is not as bad as Los Angeles, but rush hour is tough. The trip to the country club should not be stressful.
TOP POST: San Diego Mortgage Rates: Trends, Predictions, & Forecasts in 2023 | 2024
Relaxation, either on the golf course or in the club, is essential. A club is a place where you can unwind and appreciate the new friendships you formed. In addition, your family can enjoy the atmosphere and the activities that the club offers. Be sure you include what the kids and your spouse want in your decision.
READ: 6 Reasons San Diego is California's #1 Real Estate Buy in 2023 | 2024
San Diego is a vast metropolitan area, and there are other country clubs. It is a buyer's market since country clubs are actively seeking new members. The typical club member is getting older, and there are some serious efforts to recruit younger people. Depending on the club, you might get further membership discounts or even a few months of free membership.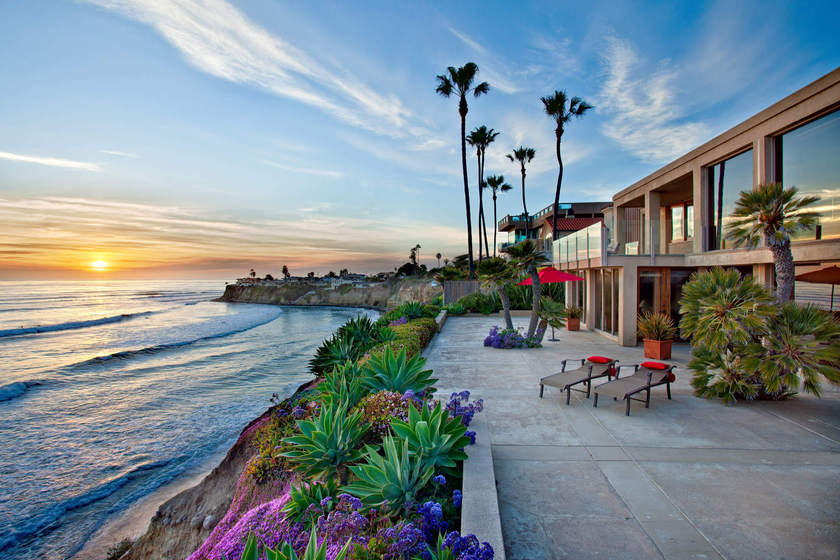 Own a home in San Diego and you want to get a personalized home valuation for it to see how much you can walk away in profit in this exciting market? See Now ›
It helps to let go of any preconceived prejudices. Yes, the members are affluent, but they are still people. While some are arrogant, others are kind and generous. You can make friendships that will last for years, helping with your career or simply helping you to enjoy life to the fullest. San Diego has terrific country clubs and year-round weather that is made for golf. Your club membership is worth every nickel in fees and dues.
JUST UPDATED: San Diego's 7 Best Places to Live in 2023 | 2024
If you want more information or have questions about any of these neighborhoods or others, Leave me a comment below!
I would love to help assist you with your home purchase, home sale, or home loan - please feel free to give me a call, text, or use the form below.
Your San Diego Insider,
Scott
Get Scott's Personal Help Below...
Where Do You Want To Go Next?
By clicking "Send" I/We agree by electronic signature as stated below: 1) To be contacted by telephone even if the telephone number appears on a State/National Do Not Call registry or any company's Do Not Contact lists. 2) To this website's Privacy Policy and Terms of Use.
See Our Top Blog Posts Below...
See San Diego's Newest Listings Below...