San Diego vs. San Jose: Which California City is Best in 2022?
Posted by Scott Taylor on Wednesday, April 27, 2022 at 5:49 PM
By Scott Taylor / April 27, 2022
Comment
"Do you know the way to San Jose?"
? ? I've been away so long; I'd take a walk and lose my way. ? ?
Those are the opening words to one of the best songs of the 60s that Dionne Warwick sang. San Jose had approximately 400,000 people when the song was famous; it now has a population of over 1 million. Quite a bit has changed in all that time.
It is a beautiful city, but it pales in comparison to San Diego. We are not just much larger, but we also have opportunities and attractions of a major large metropolitan area. San Jose is located near San Francisco Bay, and that is a demerit all by itself, in our opinion. It might be unfair to compare San Jose to San Diego, but we will do this in this blog article. We are not just going to answer the question, why is San Diego better? We will also ask people from San Jose: for Pete's sake, why do you still live there? (We sure as heck don't know).
Here's a quick rundown of our list:
We're going to use some third-party sources for the comparison, and, as always, all statistics quoted are as of this writing. We freely admit to having a little bit of swagger about our town, but we believe you will understand why we are so proud of San Diego when you finish this article.?
San Jose Will Cost You More
We know that most metropolitan areas in California suffer from the California curse: everything is a bit more expensive than someplace else. Well, within the borders of our great state, some cities are frighteningly more costly than other municipalities. That is the case with San Jose when you compare it to San Diego.
BestPlaces.net doesn't pull any punches in a comparison. According to its ratings, San Jose has a score of 214.5 compared to San Diego's score of 160.1. The biggest punch in the wallet is in housing. San Jose has a BestPlaces.net rating of 433.9; San Diego is 279.1. Small things like food and groceries will cost you more in San Jose than San Diego (113.7 compared to 109.7) and transportation cost has San Jose at 151.0 as compared to San Diego's 120.2. You are better off being sick in San Diego (although we do want you to be as healthy as possible) because the BestPlaces.net score for San Diego is 89.0. San Jose is more expensive, with a score of 100.5.
To recapitulate the figures from BestPlaces.net, San Jose is 34.0% more expensive than San Diego, and Health-related expenses are 12.9% more than San Diego (Doesn't that just make you feel sick, San Jose?).
Get Pre-Approved for a San Diego home loan in 60 seconds or less – no social security number needed. Get Started ›
San Diego has Sane Housing Costs
Housing in the San Francisco Bay area is just plain crazy, and San José has a severe problem when it comes to affording a house. As of this writing, the median sales price of a home in San Jose is $1,250,000. That is approximately $449,000 more than the San Diego median sales price of $801,000. Redfin.com rates both housing markets as Very Competitive.
Renters do not get a break, either. A one-room apartment in San Jose's city center will cost you $2,555.12 per month; the same in San Diego is $2,140.66 per month. The high-tech industry in San Jose creates a significant difference in wages. San Jose boasts an average monthly net salary of $7,091.96, and San Diego employers will pay $5,078.50. However, housing costs, whether rent or mortgage payments, and consumer prices with rent eat up a lot of the difference.
Anyone who lives in San Jose should stop a moment and take a close look at the price comparisons. You can quickly sell your home in San Jose and have enough profit to buy a great house in San Diego with a down payment that sharply reduces your mortgage expenses. Seriously, a profit of over $400,000 can get you a lot of house for your money.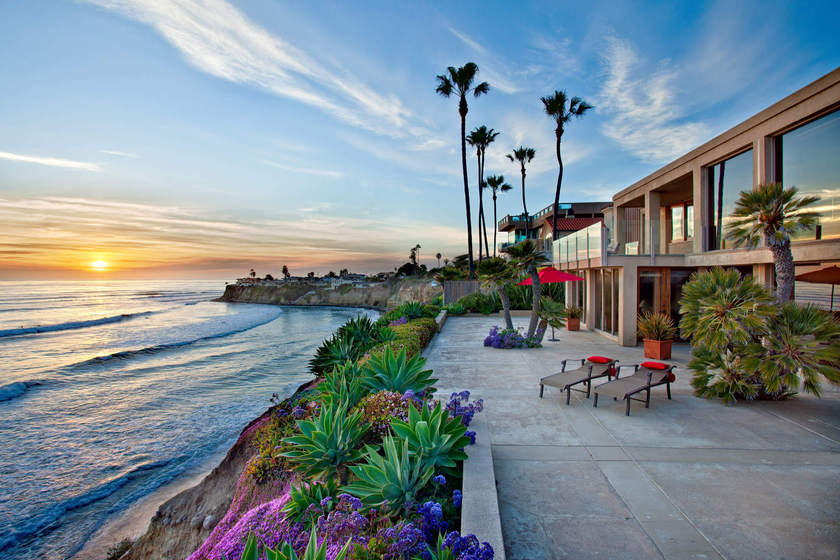 Own a home in San Diego and you want to get a personalized home valuation for it to see how much you can walk away in profit in this exciting market? See Now ›
Best Cities Comparison
Niche.com paints a clear picture for San Diego. Nationally, San Diego is ranked #62 in Best Cities to Live in America. It is #50 in the Best Cities to Raise a Family in America and #23 in Cities with the Best Public Schools in America. Niche.com ranks San Jose as #110 in the Best Cities to Live in America, #72 in Best Cities to Raise a Family in America, and #38 in Cities with the Best Public Schools in America. We will admit that San Jose does top us in Best Cities for Outdoor Activities in America (#8 to #30), but we trump them in Healthiest Cities in America (#35 to #37 ) and Healthiest Places to Live in America (#35 to #37).
Do you own a home in San Diego and want a fast, free, and automated home valuation in 30 seconds or less? Get One Now ›
We Have Balboa Park!
We will not be snarky and say that San Jose has the cultural attractions of a parking lot. This city does have places of interest, such as the Winchester Mystery House and the San Jose Museum of Art. However, it also has all the traffic you can expect of a large metropolitan area, and you will spend a fair amount of time getting from one exciting place to another. The major cultural attractions of San Diego can all be found in one genuinely stunning place: Balboa Park.
We think of it as the world's eighth wonder and has everything a person or a family could want in one area. We can start at the San Diego Zoo, an internationally famous zoological garden, explore the San Diego Museum of Art or the Timken Museum of Art, and still have other places to go and satisfy a person's need for leisurely diversions.
The performing arts have a fantastic home in Balboa Park. Young people will find Balboa Park to be a place where they can be formally introduced to the performing arts. The San Diego Civic Youth Ballet, San Diego Junior Theatre, and the San Diego Youth Symphony are all located within the boundaries of Balboa Park. Some genuinely unique features are the Photographic Arts Building and the Spanish Village Art Center. Diversity is celebrated within the Spanish Village, the House of Pacific Relations International Cottages, and the Japanese Friendship Garden. Balboa Park is a wonder that would take an entire week to enjoy fully. You could spend a vacation full of amazement in a park that is within driving distance of your home.
Get Pre-Approved in 60 Seconds...
(No Social Security Number Needed)
By proceeding, you consent to receive calls and texts at the number you provided, including marketing by auto-dialer, pre-recorded voicemail, and email, from this site's operators about real estate related matters, but not as a condition of purchase. You also agree to our Terms of Service, and to our Privacy Policy regarding the information relating to you. Message and data rates may apply. This consent applies even if you are on a corporate, state or national Do Not Call list. This site is protected by reCAPTCHA and the Google Privacy Policy and Terms of Service apply.
San Jose doesn't have any beaches, which should make you feel sad. You will have to drive a distance to get to the shores of the Santa Cruz Main Beach, which is the closest quality stretch of sand. Does San Diego have beaches? Why not ask Does Switzerland have mountains?
We practically have a sub-culture based on the waves and the sand. We have La Jolla Cove Beach, Coronado Beach, Pacific Beach, Flat Rock Beach, Ocean Beach City Beach, South Mission Beach, and Bermuda Beach. So, if your San Jose friends want to know what a real beach looks like, send them a postcard of one of the San Diego wonders.
Get Pre-Approved for a San Diego home loan in 60 seconds or less – no social security number needed. Get Started ›
The Employment Opportunities Are Better Than You Think
We know that San Jose has got Silicon Valley close by, and tech startups can offer career challenges and stock options. Well, San Diego has a diverse economy, and although we don't qualify as Silicon Valley South, there are possibilities here that enable a tech worker from San Jose to do well.
San Diego has Qualcomm and other tech companies such as ClickUp and Mapp Digital. We are developing a reputation for being a hub of tech startups. These new companies include mobile app developers. CBRE has noted that San Diego is the 6th fastest-growing US city for software and tech professionals.
There are some clear reasons for that. San Diego's tech scene has a community that supports each other. Entrepreneurship, a driving force in the high-tech industry, is encouraged, and folks are willing to share advice and leads. It may sound minor, but office space is cheaper in San Diego than in San Jose (about $300 per square foot in San Diego and nearly $400 per square foot in San Jose).
We admit that San Jose has pride of place right now in the high-tech world, but the benefits of America's Finest City are getting noticed. Google opened a 60,000 square foot office in San Diego in 2016, and companies such as Apple, Walmart Labs, and Amazon have followed suit.
Quality of life is one thing that is attracting high-tech folks. Better traffic flow, sunny southern California weather, and lower rents are hard to resist. A person who is tired of the Silicon Valley rat race might discover their employer has an office in San Diego. Requesting a transfer is not something out of the question. A transfer request to San Diego will probably be honored to keep badly needed talent in these Great Resignation days.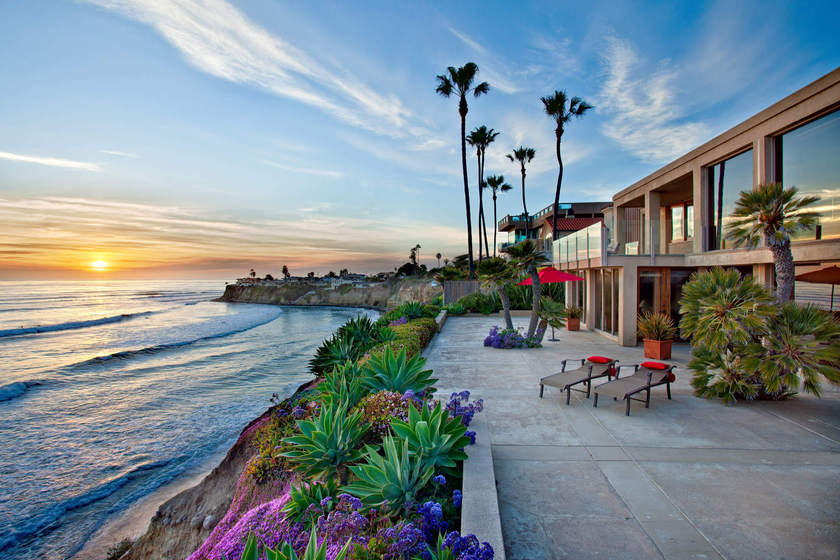 Own a home in San Diego and you want to get a personalized home valuation for it to see how much you can walk away in profit in this exciting market? See Now ›
Make the Best of House Hunting
We believe we have established a decent case that San Diego is a better place than San Jose. We agree that anyone in the tech industry will favor Silicon Valley, but there is much more to life than algorithms and writing code. We now want to make a case for buying a house, and we mean not trying to do this all by yourself.
Some so-called experts say anyone can buy a house without using an agent. It just requires hiring professionals such as attorneys to look at the paperwork. They claim the advantage is not having to pay the real estate agent's commission. It's true that no agent is going to work pro bono. However, there are times when being your own real estate agent is like being your own lawyer in a courtroom. It can lead to some very nasty consequences.
Any homeowner who has a house on the market will make that property look as perfect as possible before viewing. They will do chores like some landscaping on the outside and some serious cleaning on the inside. It might mean that specific problems in the house are covered up by a new coat of paint or a piece of carpeting.
A final mistake that a buyer can make is negotiating the final price with an experienced agent representing the seller. It is comparable to being your own lawyer in a court case; you have little chance of winning. You may end up paying much more than necessary for taking on repair expenses you do not need to have. It points to the importance of having a real estate agent by your side when purchasing a house.
Do you own a home in San Diego and want a fast, free, and automated home valuation in 30 seconds or less? Get One Now ›
We are the kind of real estate agent a buyer will appreciate.
Someone who is moving in from San Jose does not know the marketplace. We do because we have been involved with San Diego real estate for years. We know the neighborhoods; we know where the best bargains are found. As a result, we have saved thousands of dollars for the buyers we represent.
We also have experience in loans. We can direct a person to the best loan products currently available in San Diego. We also know where you can find the best mortgage rates. The type of information you need to apply for a mortgage is what we have to offer.
Sometimes buying a house in San Diego is like a race to the closing. You must be ready, and all the paperwork has to be done correctly. We see to that for our clients. So, expect to have everything in good order when you go to that closing and know that all you have to do is sign the papers. The title search and all the other small things have been taken care of by us. You will quickly discover we are your best friend when it comes to buying a house.
We will not say that San Jose is a horrible place to live. We simply think that San Diego is better, and we have given you our reasons why. If anyone in San Jose wants to know the way to the best real estate bargains in San Diego, all they need to do is get in contact with us. The same goes for you. Please feel free to contact us at your convenience, and we will tell you all about us.
☎ I would love to help assist you with your home purchase, home sale, or home loan - please feel free to give me a call, text, or use the form below.
Your San Diego Insider,
Scott
Get Scott's Personal Help Below...
Where Do You Want To Go Next?
By clicking "Send" I/We agree by electronic signature as stated below: 1) To be contacted by telephone even if the telephone number appears on a State/National Do Not Call registry or any company's Do Not Contact lists. 2) To this website's Privacy Policy and Terms of Use.
See San Diego's Newest Listings Below...