San Diego's #1 3% Down Home Possible Home Loan Limits for 2021
Posted by Scott Taylor on Sunday, April 18, 2021 at 5:41 PM
By Scott Taylor / April 18, 2021
Comment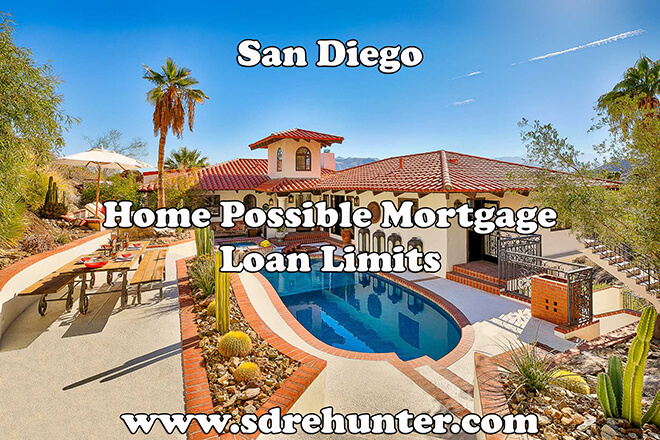 The most important part of the loan that goes beyond whether or not you can qualify is the limit.
The limit can decide if you're really going to be able to get the home that you need or if you aren't going to be able to really use the loan.
Search Now: See the latest San Diego homes, townhomes, and condos for sale…
Knowing the limits is especially important in areas like San Diego where the average prices of homes are much higher than elsewhere.
The loan limits for the area are important because it can dictate the kind of home that you are really able to purchase.
If you're interested, then you'll want to check out the answers to some common questions, the pros and cons of the loan program, and the overview of the program.
In addition, we have an article all about the reason why this program will be the best possible fit for you.
After you've checked all that out, take the time to contact me so I can help you get set up with the right program for your situation.
Here's a quick rundown of our list:
Conforming Loan Limits
Like with other Freddie Mac and Fannie Mae loan types, you'll be dealing with the conforming loan limits.
These loan limits have a baseline across the entire country.
They're meant to work with the average prices of homes across the country.
There are a number of limits that you will be able to find.
They range from 1-unit homes to 4-unit homes.
For the purposes of this loan, you will only need to be concerned with the limits for a 1-unit home.
This is because this is the kind of home that will be available to you.
However, it is important to keep in mind that this loan will also be something that you can use for a condo as well.
San Diego Homeowners: We have qualified buyers desperately seeking to buy immediately and pay top dollar…
---
Blog Post Interrupt
Must Watch: 7 Tactics to Use When You Buy in San Diego - While You Live Elsewhere...







Back to the Post
---
Loan Limits in High-Cost Areas
When it comes to getting a home in an area like San Diego, the conforming loan limits often don't cover the average cost of a home with the limit at $548,250.
There's good news though when it comes to the conforming loan limits and high-cost areas of living.
The good news is that these areas have different loan limits.
In San Diego, the loan limit is bumped up to $753,250.
This matches up more closely to the median prices of homes in the area.
It also means that there are less barriers involved in you getting a home.
You won't have to try and do multiple loans in order to get the home that you really need for your family.
Need Money? Whether you are a first time home buyer, currently own, or have owned in the past – you can get money to cover your down payment and closing costs – see the best programs now…
Other Limits
There are other limits that are not directly related to the loan that you will want to keep in mind.
If you were getting this loan in an area that wasn't high cost, then you might have to make exactly the average income or less.
In high-cost areas, you are often allowed to make slightly more than the median income.
This allows more people to have access to the loan in areas where the majority of people are unable to reasonably afford housing.
This is great news for people that are worried about whether or not they will qualify for the loan.
Of course, you will still have to meet the requirements of being a new homeowner and how long ago you could have owned a home to really qualify.
But the changing limits mean that you don't have to check all sorts of numbers in order to understand if you are able to qualify for the loan or not.
Apply Now: Why wait? Apply online 24/7 using our secure loan application, from any computer or device, and let Scott find the best loan options based on your needs – takes less than 10 minutes…
Conclusion
Getting the right amount of money to afford the home that you need is important.
Freddie Mac, and even Fannie Mae, tend to do a good job of making sure that their loans are accessible to the people that really need them.
Of course, there are still hops to jump through when it comes to making sure that you're getting into the right program and can actually qualify for it.
But at least knowing the base numbers for loans like the Home Possible loan program can help you figure out if the loan is going to work for the house you want.
If you haven't done extensive looking at the market in San Diego, then my website and I may be able to help you find a home that is within the limits of your budget and will work with the life that you want to lead.
Don't hesitate to reach out to me and set up a call where I can assist you in the process of finding that perfect home that also doesn't break the bank.
What do you think?
Is taking advantage of this new mortgage loan something for you?
Leave me a comment below – or, contact me here.
Your Home Possible Insider,
Scott
5 San Diego Conventional Loan Secrets Revealed!




Where Do You Want To Go Next?
By clicking "Send" I/We agree by electronic signature as stated below: 1) To be contacted by telephone even if the telephone number appears on a State/National Do Not Call registry or any company's Do Not Contact lists. 2) To this website's Privacy Policy and Terms of Use.
See San Diego's Newest Listings Below...