San Diego's #1 3% Down Home Possible Home Loan Pros & Cons in 2021
Posted by Scott Taylor on Sunday, February 28, 2021 at 3:55 PM
By Scott Taylor / February 28, 2021
Comment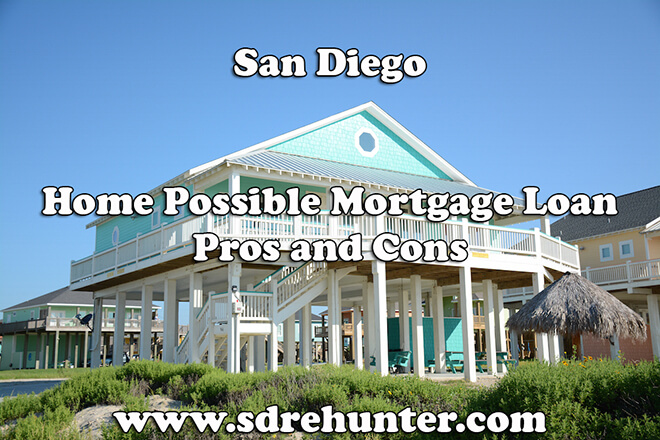 Finding the right loan program is about figuring out what pros you really want and what cons you can deal with.
Regardless of the loan type, you'll find pros and cons.
So we put together this list for the Home Possible mortgage loan so you can get a quick look at the good and the bad that comes with the loan.
If you're interested, then you'll want to check out the answers to some common questions, the overview of the program, and the loan limits and what they mean for you.
In addition, we have an article all about the reason why this program will be the best possible fit for you.
After you've checked all that out, take the time to contact me so I can help you get set up with the right program for your situation.
Here's a quick rundown of our list:
Pros
3 Percent Down Payment
The Home Possible program is in line with a number of other plans that offer people a 3 percent down payment.
This down payment plan can be a lot better for people that are already living paycheck to paycheck.
These people are the ones that are struggling to save up money for a large down payment.
This loan program is specifically aimed at new homeowners because of this.
Many younger individuals looking to enter the housing market, but they are typically facing some sort of struggle when it comes to gathering up the funds for the down payment.
Even if you've gotten out of the housing market and are looking to get back in, this program can be a great in for you.
See the latest San Diego homes, townhomes, and condos for sale here...
Low to Mid Income
Just as this loan program is aimed at people that are trying to get a home for the first time (whether at all in a while), this program is also aimed at people that are living more paycheck to paycheck.
In order to help them narrow down the field, the loan program makes sure that it is really only accessible to people that have low to average income.
In San Diego, it is a little different because of the high cost of homes.
This means that you can have just a little higher income compared to other areas of the country and still be able to have access to the loan program.
The limit is roughly $111,020 although this can depend on the exact zip code that your new home will be in.
San Diego Homeowners: We have qualified buyers desperately seeking to buy immediately and pay top dollar…
Works for Areas with Higher Cost Homes
Just as the income limit changes when it comes the higher cost areas, there is another change that happens.
You'll actually find that the loan limits increase in areas like San Diego that are considered high cost.
The limit tends to correspond to the average cost of homes across the country.
In the higher cost areas, they scale that up to make sure that people are able to get decent homes no matter where they are.
See the latest San Diego real estate market stats just updated...
---
Blog Post Interrupt
Is the 2021 San Diego Housing Market Like it Was in 2007?




Back to the Post
---
Cons
Credit Score Requirement Can Be Inconsistent
While the minimum requirement according to Freddie Mac is around 640, you'll find that different lenders will have different actual limits.
This can make some things weird when you're looking for lenders.
It may mean that the lender you would originally go with might not accept you as a borrower.
This can be incredibly frustrating when you are ready to get in there and get that loan figured out.
I am usually flexible in that way and will be able to work with you.
If your credit score seems too low for the program, then I may even have other suggestions for programs that might fit you a little bit better.
Need Money? Whether you are a first time home buyer, currently own, or have owned in the past – you can get money to cover your down payment and closing costs – see the best programs now…
You Have to Meet Some Strict Requirements
When it comes to qualifying for the loan, there are some incredibly strict guidelines that you will need to follow in order to qualify.
The strictest requirements are about homeownership in the past.
There are some allowances for people that are recently divorced or were in various different situations, but it is still fairly strict that you couldn't have been the sole owner of a home within three years of trying to apply for this loan.
While this works out just fine for a number of people that are trying to get into the program, it can make it harder for some people that are really struggling to get into homes.
We outlined those requirements in the main article about the loan program, but they can still trip up people that are trying their hardest.
Search Now: See San Diego's latest homes, townhomes, and condos for sale
Will Still Include Mortgage Insurance
Insurance is used on mortgages to make sure that the loan will really be paid off and that the lender is protected if you don't make payments on time.
However, it can add to what you need to pay every month.
While the insurance goes away when you have reached 80% LTV, it can make your life a little bit harder in the beginning.
There are some programs that manage to get you around the insurance payments, but those are harder to qualify for, so it's a little bit of a give and a take when you look at it in the long run.
Apply Now: Why wait? Apply online 24/7 using our secure loan application, from any computer or device, and let Scott find the best loan options based on your needs – takes less than 10 minutes…
Conclusion
When it comes to understanding a loan program, you need to understand the pro and cons.
Getting a look at them can help you figure out what you really need and what you will be able to put up with.
If after looking at this list, you find that there are some pros that are incredibly important to you, then let me know.
I may be able to find a similar program that might be better suited to your situation.
What do you think?
Is taking advantage of this new mortgage loan something for you?
Leave me a comment below – or, contact me here.
Your Home Possible Insider,
Scott
5 San Diego Conventional Loan Secrets Revealed!




Where Do You Want To Go Next?
By clicking "Send" I/We agree by electronic signature as stated below: 1) To be contacted by telephone even if the telephone number appears on a State/National Do Not Call registry or any company's Do Not Contact lists. 2) To this website's Privacy Policy and Terms of Use.
See San Diego's Newest Listings Below...