Uh Oh - Did You Miss Their Property Liens? (Read This for 2021)
Posted by Scott Taylor on Thursday, April 1, 2021 at 8:51 PM
By Scott Taylor / April 1, 2021
Comment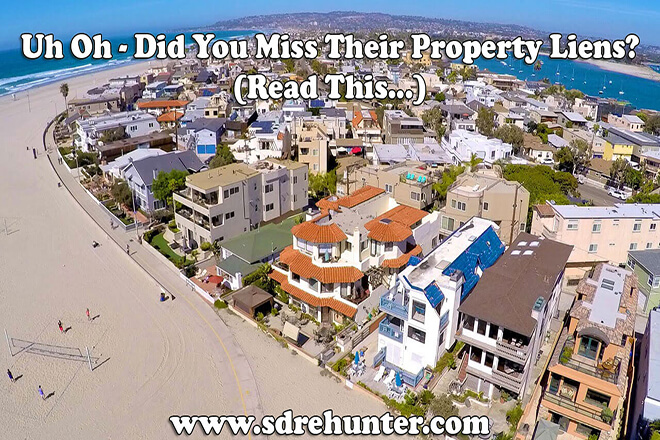 I received a concerned email from a past client today - about a horror story they heard regarding someone buying a house for cash, getting title insurance, and then later finding out there were liens against the property.
But, it wasn't in the title insurance policy and wasn't covered.
Ouch.
There's actually 3 forms of title insurance offered in California:
The CLTA Policy (Standard)
The ALTA-R Policy (ALTA Residential)
The ALTA Homeowners Policy
The distinction is that the CLTA policy only offers very limited protection against defects such as liens and encumbrances (these items are NOT part of the public record).
The ALTA-R policy provides greater coverage against several (but not all) off record matters.
Numerous title companies will only issue the CLTA policy on REO and Short Sale transactions. This coverage is NOT enough to protect you against most title claims.
So, what do you ask for?
Need Money? Whether you are a first time home buyer, currently own, or have owned in the past – you can get money to cover your down payment and closing costs – see the best programs now…
---
Blog Post Interrupt
5 Hacks for Buying a House for Cash, Fast, at a Discount...









Back to the Post
---
Ask for the CLTA/ALTA Homeowner's Policy
It's also vitally important the policy is issued "without Western Regional Exceptions."
Beware to these exceptions to coverage - as they include some of the most common issues that later become title claims.
"Western Regional Exceptions" exclude coverage in the policy from matters such as easements not shown in the public record, certain tax liens which should be cleared before closing, boundary line discrepancies, and other matters.
Some title companies will issue the CLTA/ALTA Homeowner's policy - but then include these as exceptions later in the report.
Apply Now: Why wait? Apply online 24/7 using our secure loan application, from any computer or device, and let Scott find the best loan options based on your needs – takes less than 10 minutes…
A great idea is to write in the contract "without western regional exceptions - especially when the property is located in San Diego.
So, what do you think?
I would love to hear your thoughts.
Leave me a comment below – or, contact me here.
Your Title Insurance Insider,
Scott
7 "Did You Know" San Diego Loan Secrets Revealed!




Where Do You Want To Go Next?
By clicking "Send" I/We agree by electronic signature as stated below: 1) To be contacted by telephone even if the telephone number appears on a State/National Do Not Call registry or any company's Do Not Contact lists. 2) To this website's Privacy Policy and Terms of Use.
See San Diego's Newest Listings Below...