Exposed: The 'Real' San Diego Cost of Living Guide for 2022
Posted by Scott Taylor on Thursday, November 4, 2021 at 1:12 AM
By Scott Taylor / November 4, 2021
Comment
The cost of living matters to everyone and those of us who live in San Diego are no exception to that rule. Southern California is a great place to live, but daily expenses have ups and downs. We readily admit that there are some things that are very pricy, but there are other features of life that are reasonable. And, there are other attractions to living here that make everything worthwhile (e.g. sandy beaches and blue skies that stretch for miles).
Here's a quick rundown of our list:
The daily cost-of-living is important to area residents and tallying up the final bill requires looking at the cost of several commodities and services found in America's Finest City. We are going to give you that information thus far for the calendar year 2021.
The Figures
We are going to start with some statistics about living expenses in the San Diego area.
The Consumer Price Index increased 5.4% in June 2021 from the same time last year. That isn't too encouraging and hints of rising inflation because those figures show the most significant increase since September 1991.
The Cost-Of-Living Index is not much better. The Cost-Of-Living Index is by location, and the base is the United States figure that is 100.0. A figure of 120.0 means a city's cost of living is 20% higher than the national average. The cost index for California is 151.7, unlike Washington State, whose index figures are 110.7. The Cost-Of-Living Index in San Diego is 136.2. That is slightly better than Los Angeles, whose figures are 140.6 and much better than San Francisco, where the Cost-Of-Living Index is 178.6. We all know that the quality of life in the Golden State is out of this world. Sadly, the same can sometimes be said for the price of being here.
Get Pre-Approved for a San Diego home loan in 60 seconds or less – no social security number needed. Get Started ›
Housing
Southern California has a reputation for being a costly place to live, and the primary reason for this is housing. Honestly, you cannot find anything cheap when it comes to looking for a place to live, and you must expect to pay a lot more than you would in Indianapolis or Denver. CoreLogic Data has recently come up with some figures about San Diego real estate. So please hold on to your hat.
The median home price in San Diego County is $700,000, which is a 17.8% increase from last year. That figure was for April 2021; the previous record was $680,000 and was set in March 2021. Resale of single-family homes has a $760,000 median, resale of condominiums has a median of $500,000, and newly built homes take the prize with a median of $734,750. That is a decrease from October 2018, when $812,500 was the median for the newly built. Still, housing is very pricey right now.
Okay, what happened to make real estate prices jump $20,000 in thirty days? Nationally, it is a seller's market right now. Buyers waited for months during the pandemic to buy property, and those same people have money that is burning a hole in their pocket. So, the primary cause of the hefty price appreciation is a perfect storm where increased housing demand has meant fewer houses for sale.
Inventory is very low. The Redfin Data Center noted that there were 3.395 active listings in San Diego County from March 1 to March 28, 2021. That is a sharp reduction from 5,952 active listings at the same time in 2020 and 7,902 in 2019. Some property owners are hesitating to show their homes for fear of COVID-19 infection.
Agents are trying to convince property owners to consider putting their homes on the market. The effort includes door-to-door canvassing, direct calls, and mailings. Unfortunately, there remains a shortage of available housing, and a low supply with high demand will keep the cost of buying a house high.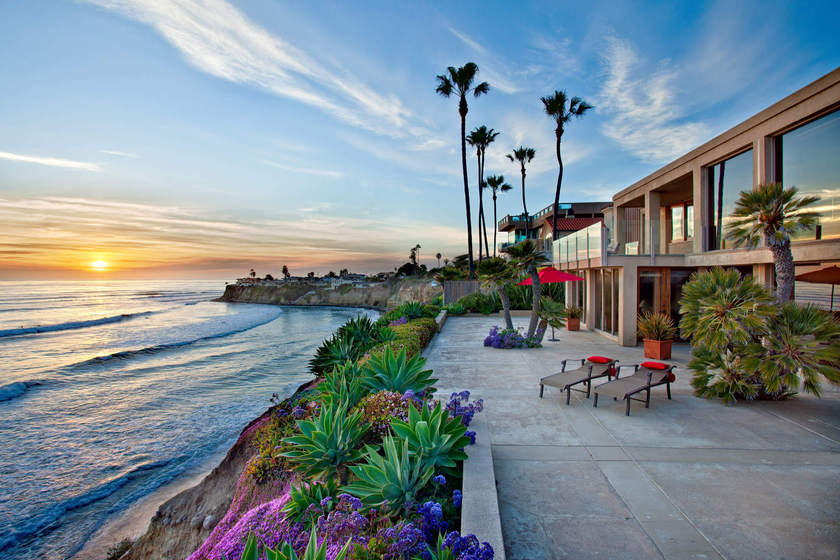 Own a home in San Diego and you want to get a personalized home valuation for it to see how much you can walk away in profit in this exciting market? See Now ›
Rent
The location and the size of the rental will decide how much rent a person will have to pay. The average size of an apartment in San Diego is 873 square feet, studio apartments are the most affordable, and 3-bedroom rentals will cost the most. Approximately 68% of apartments in San Diego will cost more than $2,000 a month.
The average rent in San Diego is currently $2,344 per month, which is 8% more than last year. The neighborhood impacts the cost. Carmel Valley apartments average nearly $3,080 in monthly rent, and the Alta Vista rentals are the most affordable, with an average rent of $1,100 per month.
San Diego's rent is reasonable despite those figures. For example, the average rent in Los Angeles is $2,450 per month, and San Francisco average is a whopping $3,035 per month (a decrease of 11% from last year!). So, the annual rent trajectory for San Diego is trending up, although the effect of COVID-19 can change that.
Do you own a home in San Diego and want a fast, free, and automated home valuation in 30 seconds or less? Get One Now ›
Food
As of this writing, the cost of food and groceries in San Diego is 109.7 (9.7% more than the national figures). That is a bit more than Los Angeles (104.1), but it is less than Santa Barbara (113.8) or San Francisco (116.6). So, what makes the difference?
Small farms make the difference.
We think of San Diego as a big, booming metropolis (it is!), but not everyone knows that San Diego County has more small farms than any other US county. As a result, the produce San Diegans purchase is very fresh and has high quality. This is in addition to all the fish and seafood just swimming off the coast, waiting to be caught.
Get Pre-Approved for a San Diego home loan in 60 seconds or less – no social security number needed. Get Started ›
Mortgage Rates
These are very volatile and are subject to change daily. The average mortgage rate in San Diego as of this writing is 2.625%, with an APR of 2.636%. The average monthly payment is $2,261, and $1,469 is the average total closing cost. Those figures ought to make anyone thinking of buying a house breathe a little bit easier.
There is no debate about the price of a house being high in California, but San Diego is not the nightmare that San Francisco happens to be. We strongly suggest that you never give up hope of affording a house. There is always a way.
What's great about San Diego is that there are so many lenders from which to choose. You can use online mortgage calculators to help you find the best financing deal at costs that are ideal for your budget. A good realtor can assist you in the search and give you some tips on how to afford your piece of the American Dream.
Get Pre-Approved in 60 Seconds...
(No Social Security Number Needed)
By proceeding, you consent to receive calls and texts at the number you provided, including marketing by auto-dialer, pre-recorded voicemail, and email, from this site's operators about real estate related matters, but not as a condition of purchase. You also agree to our Terms of Service, and to our Privacy Policy regarding the information relating to you. Message and data rates may apply. This consent applies even if you are on a corporate, state or national Do Not Call list. This site is protected by reCAPTCHA and the Google Privacy Policy and Terms of Service apply.
Utilities
Although Internet services, garbage collection, and natural gas are expense factors in San Diego homes, it is electricity and water-primarily. San Diego residents get a break in this category. Overall, the Cost-Of-Living Index for utilities is 102.8 (2.8% above the national figures). That is not too bad at all. Let's look at the utility load on a person's wallet in San Diego. The figures in parenthesis are the average utility costs in the state of California.
San Diego residents pay an average of $95 to $130 per month for their electric bill ($114). Water bills are approximately $80 per month ($77). San Diego does pay more for water, despite having the Pacific Ocean just a few feet away. The city can't seem to break away from a combination of factors, including contractual obligations.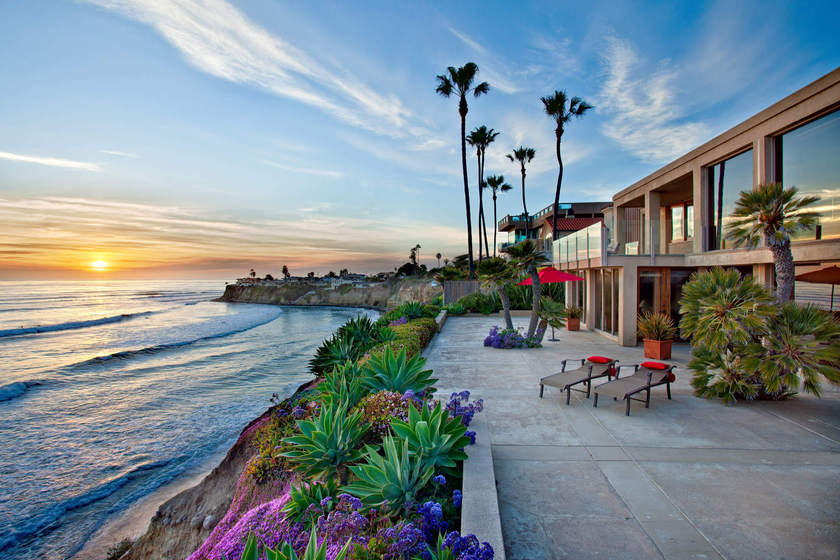 Own a home in San Diego and you want to get a personalized home valuation for it to see how much you can walk away in profit in this exciting market? See Now ›
Transportation
Well, the figures are a bit sobering. The Cost-Of-Living Index for transportation in San Diego is 120.0. Parking isn't too bad at an average of $70 per month, and the city has the San Diego Metropolitan Transit System with bus and trolley services. The problem with transportation is twofold: 1) the cost of gasoline currently hovers around $4 a gallon, and 93.7% of San Diego households own cars.
Do you own a home in San Diego and want a fast, free, and automated home valuation in 30 seconds or less? Get One Now ›
Healthcare
Most California employers are sensible enough to offer health insurance to employees, and many will include providing coverage to part-time workers. Californians who do not qualify for Medicaid may buy health insurance from the online state insurance exchange. The insurance exchange has four tiers: Bronze (the cheapest but with the highest deductible), Silver, Gold, and Platinum (most expensive but with a zero deductible). The insured's age influences health insurance, and older people will pay more than a younger person.
There is a pleasant surprise for San Diego County residents. The 2021 premium is $464 per month, which is a decrease of 2.34% from last year. Granted, that is higher than Los Angeles County ($438), but the San Diego figures are less than the premiums charged in Alameda County ($605) or Santa Clara County ($613). All figures are based on what a 40-year-old adult would pay.
Your final healthcare cost depends on the insurance policy you decide to buy.
Get Pre-Approved for a San Diego home loan in 60 seconds or less – no social security number needed. Get Started ›
Taxes
The price you will pay for taxes in San Diego is subject to several variables. The minimum combined (state and county tax rates) for sales tax is 7.75%, which is higher than the California sales tax rate (6%).
Personal tax rates are a percentage of annual income. City of San Diego residents making less than $25,000 pay a rate of 13%, and the rates will go progressively higher to a maximum of 25% for those making an annual income of $200,000 or more.
Property taxes in California are governed by state law under the Prop 13 guidelines. The property tax rate for the City of San Diego is approximately 1.23%.
That seems low but remember that house prices are high in the area.
San Diego is saddled with a very high median property tax rate. The median property tax in San Diego County is $2,955 per year.
Yeah, that is a lot, but taxes here are better than those by the San Francisco Bay. Marin County will pick the pocket of its residents at an average of $5,500 per year.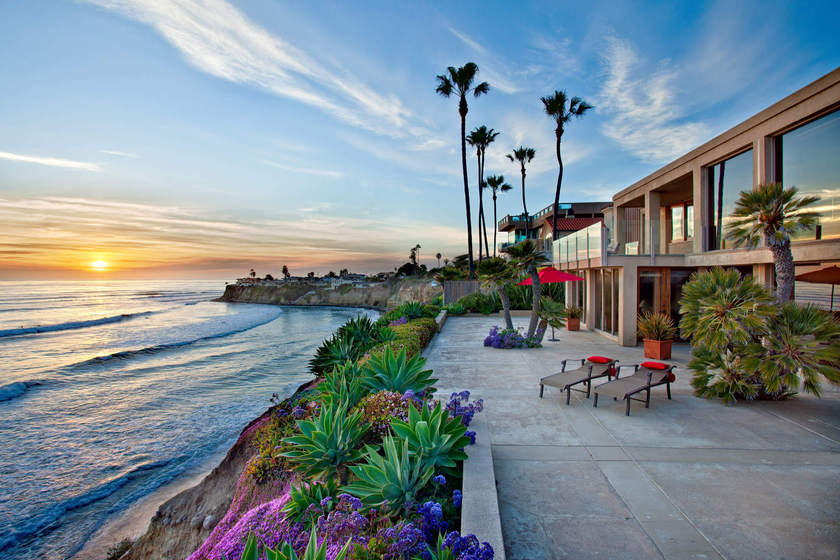 Own a home in San Diego and you want to get a personalized home valuation for it to see how much you can walk away in profit in this exciting market? See Now ›
Opportunities for Savings
Okay, everyone knows that things are expensive in California (what else is new?). This doesn't mean that all is lost, and you will go broke just by breathing San Diego air. There is a bright side, and you certainly can make tasty lemonade out of any lemons you think you are holding onto.
For Example:
Housing and Real Estate. This is an excellent time for senior citizens and those wishing to downsize to smaller housing arrangements. The profit margins of some of these long-term owners (e.g., anyone who bought their house in the 1990s or before) will be substantial. Lack of new houses can mean that investing in a fixer-upper might be the way to go to save some money in the long run.
Utilities. A reliance on fossil fuels is the driving force behind high electricity bills. Converting to solar power has some high up-front costs, but the long-term energy savings of going solar are substantial.
Transportation. It is nowhere near as bad as Los Angeles! Public transportation is reasonably priced and offers county-wide services. In addition, the trend towards remote working can lower the transportation price and make traffic more manageable than in the past.
Do you own a home in San Diego and want a fast, free, and automated home valuation in 30 seconds or less? Get One Now ›
Tips on How to Move to San Diego
This town is still full of opportunities, and you can have a successful career in a sunny environment. This guide intends to show you what to expect so you can come here with your eyes open and, hopefully, a plan in mind. Here are some quick tips on moving to America's Finest City.
Make You Move in the Winter. The summer vacation crowd makes it hard to find available lodging. Come here when there are fewer tourists.


Consider Public Transportation. You might not need your wheels when you start out in town. Public transportation in San Diego is pretty good, and you can use it while you find suitable parking spaces.


Be Ready to Conserve. Recycling and water conversation are essential here.


Scout Out the Neighborhoods First. Find a cozy niche you can afford and take the time to know all about it. That includes where the grocery stores, churches, entertainment spots, libraries, and police stations are located.


ENJOY THIS CITY! Dabble in the cuisine and appreciate the ambiance of San Diego. Take the opportunity to go to the beach and take in some of the nightlife. Don't be surprised that once you have settled in and learned your way around, you will start wondering why you did not move here sooner!
We recommend that you hire a professional moving company to transport your belongings. If you need more time to sort things out, you consider hiring safe storage to store your items temporary before moving them in.
What do you think?
Your Cost of Living Insider,
Scott
Get Scott's Personal Help Below...
Where Do You Want To Go Next?
By clicking "Send" I/We agree by electronic signature as stated below: 1) To be contacted by telephone even if the telephone number appears on a State/National Do Not Call registry or any company's Do Not Contact lists. 2) To this website's Privacy Policy and Terms of Use.
See San Diego's Newest Listings Below...