Credit Scores Revealed: How Yours Affects Your Mortgage Rates in 2021
Posted by Scott Taylor on Thursday, April 1, 2021 at 8:59 PM
By Scott Taylor / April 1, 2021
Comment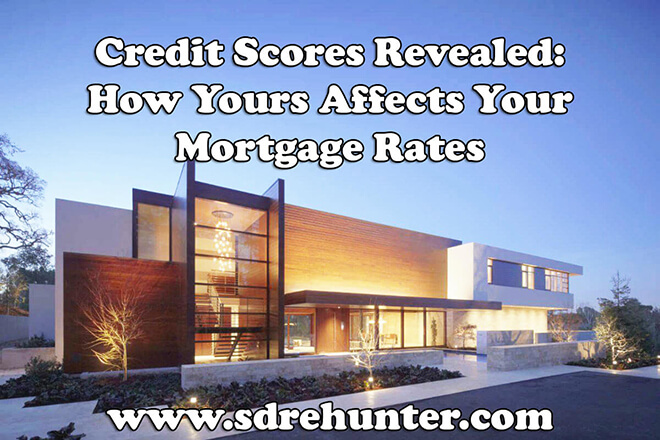 When it comes to your credit score, the numbers play a huge role in many factors of life.
Opening new credit accounts, getting loans for things like a car or student loans, are just a few things that your credit score plays a heavy part in.
This is especially true when it comes to how lenders determine mortgage rates.
While it is not always a factor that lenders consider when you apply for mortgage loans or assistance, it almost always plays an important role.
So, what do lenders typically look for in credit scores?
Lenders will typically look for borrowers that have low balances when it comes to debt, a long history of payments that have made on-time, and have properly utilized overall credit.
Typically, they will look at: outstanding debt, outstanding debt that is relative to the total amount of available debt, the length of your credit history, and how many times you have pursued new credit – or, how many inquiries are on your report.
The amount of interest varies per loan and is the most affected factor when it comes to your credit scores.
An interest rate is determined on a fixed-rate amortizing loan is determined by three things: the amount you borrow, the term of the loan, and the interest rate.
As a (very general) rule of thumb, the following applies when it comes to mortgage rates:
A credit score of 740 or higher will get you qualified for the best and lowest interest rates on mortgages when compared to borrowers with lower credit scores.
While it is difficult, a score under 620 can still qualify you for a mortgage.
Search Now: See the latest San Diego homes, townhomes, and condos for sale… 
The difference between rates can vary by insanely low variables - a point and a half can be the difference between good and bad interest rates.
For example, a monthly principal and interest payments on a 30-year fixed-rate mortgage for $200,000 can vary between 4%, which is a monthly principal and interest of $954.83, and 5%, which is a monthly principal and interest of $1,073.64.
As you can see, one point on your credit score can make all the difference.
Dings on your credit score can cost you a tremendous amount, both when it comes to applying for a mortgage, and in life as a general rule.
Let's take a look at some numbers:
On average, the average interest rate on a 30-year, fixed-rate loan was 3.67%, according to April 2015 data from Freddie Mac.
With a credit score of 740 or more, qualifying for that lower interest rate is much more realistic.
Based on data from the Mortgage Bankers Association, the average amount borrowed under the same 30-year fixed-rate mortgage was $294,900.
If you had a credit score over 740 then you would wind up paying $191,955.18 in interest over the total life of the loan – keep in mind, that is what you would get with "excellent" credit.
It is a much different story with credit that falls below 740.
Delinquent bills and outstanding debts can cause your credit score to drop dramatically.
Lenders tend to look at borrowers in terms of risk.
Borrowers with higher credit scores are seen as less risky borrowers and more likely to be able to pay off their loan on-time and without trouble.
San Diego Homeowners: We have qualified buyers desperately seeking to buy immediately and pay top dollar…
Borrowers with lower credit scores are seen as riskier clients and more at risk to default on their loans.
Depending on the amount of outstanding debts and how long they have been delinquent, your credit score can drop between 10 to 73 points, including other factors such as credit inquiries.
This means your score can drop below the 620 mark that most lenders consider the cut-off, and fixing that can be time-consuming and difficult, depending on your situation.
How much can that kind of drop cost you?
On a rough estimate, that can end up costing you an interest rate increase from 3.67% to 0.5%.
That means you are paying $222,402.98 over the life of a 30-year, fixed-rate loan based on the same factors mentioned before.
In turn, one month of delinquent bills could wind up costing you $30,447.80.
That is a pretty big bill for a lapse in credit.
If your credit score doesn't make the mark for these kinds of conditions, what exactly can you do?
Fortunately, it's not hopeless.
The three credit bureaus, Experian, TransUnion and Equifax, all have various methods on how you can check and manage your credit scores.
Each of them have their own regulations and manner about getting necessary reports and disputing anything that counts as a negative mark on your credit report.
Negative marks on your credit reports can come from outstanding or unpaid debts, defaulted loans and multiple amounts of inquiries for your credit score.
If you have outstanding debts or debts that are in collections, you should consider paying those off as soon as possible.
There are also ways to pay less than you owe, if you can negotiate with the collections agency or the persons or company that you owe.
Paying off any outstanding debts will give your credit a definite boost, though it might take some time for it to rise back up after the debt is paid off.
Need Money? Whether you are a first time home buyer, currently own, or have owned in the past – you can get money to cover your down payment and closing costs – see the best programs now…
---
Blog Post Interrupt
Must Watch: The 5 San Diego Mortgage Trends I Am Seeing Now...









Back to the Post
---
Maintaining a good credit score doesn't have to be a difficult process.
In essence, the steps are:
Pay off any and all credit card debt
Don't open new loans or credit cards until after you've closed on your home
Consider padding your savings account.
Mind you, a bigger savings account doesn't truly affect your credit score, but it can help lenders see you in a better light when you apply for a mortgage loan. 
If you have any questions about when the right time to apply after paying off your debt is, please feel free to contact me.
If you plan on applying for a new home any time soon, try not to apply for any new credit, if at all possible.
Multiple new credit accounts can seriously detract from your credit score and, as discussed before, the lower it is, the less chance you have of getting a mortgage with a good interest rate.
If your credit score isn't the best, then don't despair.
Apply Now: Why wait? Apply online 24/7 using our secure loan application, from any computer or device, and let Scott find the best loan options based on your needs – takes less than 10 minutes…
There are plenty of things you can do to get it back in shape and ready for a loan.
Even if your credit score isn't the best, there are some loans and assistance programs in San Diego County and California that works with people that have low credit scores or even no established credit history, in some cases.
I regularly write about loans that are made specifically to help people who might be in your situation, so be sure and check regularly.
You're certain to find a loan, grant or assistance program that works for you and will let you close on the home of your dreams.
Of course - I would love to hear your thoughts.
Leave me a comment below – or, contact me here. 
Your Credit Score Insider,
Scott
7 "Did You Know" San Diego Loan Secrets Revealed!




Where Do You Want To Go Next?
By clicking "Send" I/We agree by electronic signature as stated below: 1) To be contacted by telephone even if the telephone number appears on a State/National Do Not Call registry or any company's Do Not Contact lists. 2) To this website's Privacy Policy and Terms of Use.
See San Diego's Newest Listings Below...