5 Reasons to Move to San Diego in 2023 | 2024 (Just Updated)
Posted by Scott Taylor on Sunday, March 26, 2023 at 7:46 PM
By Scott Taylor / March 26, 2023
Comment
There are all kinds of reasons for looking to find another place to live. It may be that the job market is poor, or perhaps the hometown is starting to decay. It also might be simply a desire to see if the grass is greener on the other side.
READ: 5 (Hot) Up and Coming San Diego Neighborhoods in 2023 | 2024
We think that anyone who is looking for a better place will find that San Diego is a magnificent place to start or advance in a career, raise a family, and essentially put down roots.
Here's a quick rundown of our list:
Data from the US Department of Labor noticed that in August 2021, approximately 4.3 million people walked away from their place of employment. It is being called the Great Resignation, and primary reasons are dissatisfaction with pay and work schedules. The quality of working life is also a problem that people no longer want to contend with. Therefore, there must be a complete package of benefits and incentives, both in the workplace and off the job as well.
READ: 9 Best Places for Families to Live in San Diego in 2023 | 2024
San Diego is referred to as America's Finest City for many reasons. We want to share with you what makes this part of Southern California exactly what you are looking for as a place to live.
1) A City of Opportunity
Job opportunities are a reason for moving on. People are willing to take a risk in a new place if there is a chance for career advancement. San Diego presents an opportunity for an individual to grow professionally. We are like other cities in that we are still recovering from the unemployment issues of last year. We currently have an unemployment rate that is more than the national figures (6.6% vs. National Unemployment of 6.0%), but the future job growth projections look very good. Job growth forecasts for the next ten years are estimated to be 34.9%, which will outpace the rest of the country (33.5%).
TOP POST: Zillow San Diego: 5 Lies, Fraudulent and Deceitful Tactics Used in 2023 | 2024
The military will energize future job figures. The US Navy and the Marine Corps happen to be among the biggest employers in San Diego County. Defense contractors will add more employees in the future, and the education and health fields will be hiring. Tourism means a lot in this part of the country, and as visitors begin to return to southern California, the tourist industry will pick up. High-paying jobs in the San Diego-Carlsbad-San Marcos SMSA include family medicine physicians, architectural and engineering managers, and computer and information systems managers.
VISIT: 7 Best Places to Live in San Diego for Millennials in 2023 | 2024
The future looks excellent for high-tech professionals. Admittedly, we are not Atlanta or San Franciso, but the tech industry is enlarging and has grown nearly 20% since 2017. Of the 35,000 San Diegans working in tech companies, 6,000 are employed in jobs created in the last two years.
VISIT: 5 Best Places to Live in San Diego for Military in 2023 | 2024
Here is a tip about tech growth: check out venture capital investments. 2020 saw venture capital companies such as Flock Freight and TuSimple provide tech VC (Venture Capital) funding of $113.5 million and $350 million individually. Technology enterprises in 2020 led office leasing volume with 1.5 million square feet. Apple, a significant tech player, expects to increase its San Diego employment by more than 5,000 in the next five years.
JUST UPDATED: 5 Reasons to Move to San Diego in 2023 | 2024
Robert Half International conducted a nationwide survey whose findings suggest that 1 in 4 San Diego employees will look for new work in the coming months. It means that the employment scene in San Diego County is very fluid, and whenever someone leaves a company, an opportunity opens for someone else. That someone could be you.
Get Pre-Approved for a San Diego home loan in 60 seconds or less – no social security number needed. Get Started ›
2) An Amazing Sense of Community
No one wants to be a stranger in a strange land. Being lonely is a price some must pay for relocating, but that expense is short-term in San Diego. Many neighborhoods have a great sense of community where everyone feels welcome.
VISIT: San Diego's 4 Safest (and Least Crime Ridden) Places to Live in 2023 | 2024
Normal Heights is a part of San Diego where the locals look out for each other and support the local business. They remember your name (Heck, they will remember your dog's name!). There is a distinctive character to the area most people dearly love.
VISIT: San Diego's 9 Best Beach Towns to Buy a Home in 2023 | 2024
Ocean Beach (OB to the locals.) is where people refer to themselves as "OBceans." Do you want a bit of Munich in your life? The Ocean Beach Oktoberfest just ended, but it will come back next year. The parks are great places to get to know people, and Ocean Beach has some great ones. You will feel included in this community, and the same goes for your pet. A part of the waterfront, Dog Beach is a leash-less stretch of land that permits your puppy to be free.
READ: San Diego vs. San Francisco: Which California City is Best in 2023 | 2024?
San Diego is an LGBTQ-friendly city, and the Hillcrest neighborhood is a large gay community. You can find a place where you can be yourself and be surrounded by friendly neighbors. Other areas that are close by, such as the Gaslamp District, permit you to relax and be free.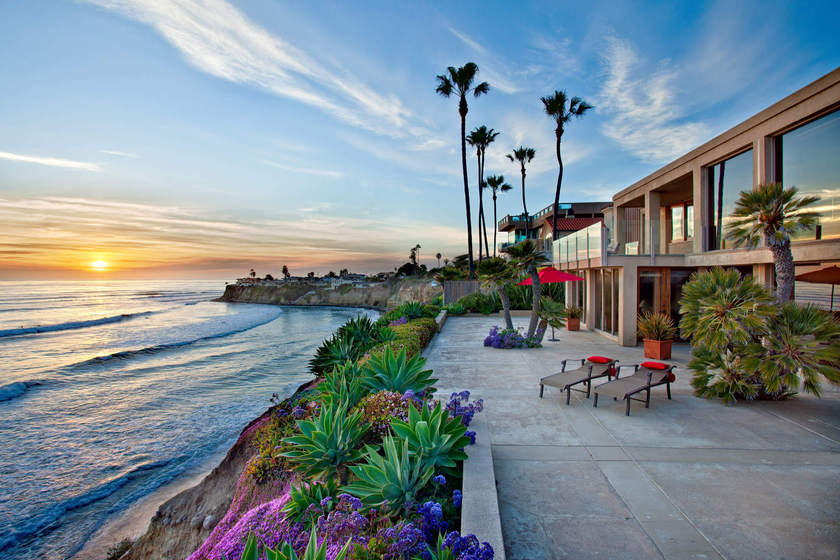 Own a home in San Diego and you want to get a personalized home valuation for it to see how much you can walk away in profit in this exciting market? See Now ›
3) The Beaches, Babe!
Southern California without the beaches is like Colorado without the Rocky Mountains. The sandy shore is the primary badge of identification, and San Diego County has 70 miles of shoreline. Some of the best beaches in the world are a stone's throw away from where a person lives.
READ: San Diego vs Orange County: Which Socal City is Best in 2023 | 2024?
Coronado Beach. Travel Channel and Dr. Beach are among many that rate Coronado Beach as one of America's best beaches. The Hotel del Coronado is one of the fantastic beachfront hotels that are part of the scenery.


Torrey Pines. You have a choice. You can stretch out on the sand of Torrey Pines State Beach or take a hike among the pine trees of Torrey Pines State Natural Reserve Park. Either way, you can enjoy nature to the fullest.
Solana Beach. The North County coastal region of San Diego has this maritime treasure. Solana Beach has five beach spots, and the Cedros Design District invites you to shop in its galleries and boutiques.


Oceanside Beach. Oceanside Harbor is where the surfers go, and The Strand is a child-safe area where the kids can get wet and have fun. The California Surf Museum is a great place for the family to visit.


Mission Beach and Pacific Beach. They are next to each other on the shore. Mission Beach is the home of SeaWorld San Diego, and Pacific Beach (PB if you live in the area) is great for surfing. Both beaches have great nightlife activities that attract the college and twentysomething crowd.
READ: San Diego vs. San Jose: Which California City is Best in 2023 | 2024?
We also want to mention the calming effect the sound of waves hitting the beach can be. If you have had one of those days, full of stress and deadlines, there is nothing better than getting out of the house and walking along the shores. We think it is good for the soul.
Get Pre-Approved in 60 Seconds...
(No Social Security Number Needed)
By proceeding, you consent to receive calls and texts at the number you provided, including marketing by auto-dialer, pre-recorded voicemail, and email, from this site's operators about real estate related matters, but not as a condition of purchase. You also agree to our Terms of Service, and to our Privacy Policy regarding the information relating to you. Message and data rates may apply. This consent applies even if you are on a corporate, state or national Do Not Call list. This site is protected by reCAPTCHA and the Google Privacy Policy and Terms of Service apply.
4) Balboa Park will Astonish You
Have you ever thought of a one-stop-shop for the entire family? Somewhere that has almost everything that the kids and the adults both could want? We have it here in San Diego County. It is Balboa Park.
VISIT: San Diego's Top 5 Luxury Home for Sale Markets in 2023 | 2024
We can start by telling you that one of the best zoos in the nation, and perhaps the world is the San Diego Zoo. That zoological garden is part of Balboa Park, and it has animal exhibits and displays that amaze and educate. It is a day trip all by itself. But, the wonder does not end there.
TOP POST: San Diego Mortgage Rates: Trends, Predictions, & Forecasts in 2023 | 2024
Nature is on display at the San Diego Natural History Museum, the Botanical Building, Palm Canyon, and the Alcazar Garden. An appreciation for arts can be created and nurtured at the San Diego Museum of Art, the Museum of Photographic Arts, the Spreckels Organ Pavilion, the San Diego Junior Theatre (America's oldest, continuing children's theatre program), Old Globe, and the Casa de Balboa. There are also opportunities to develop better diverse culture awareness at the Spanish Village Art Center, the Japanese Friendship Garden, and the International Cottages.
READ: 6 Reasons San Diego is California's #1 Real Estate Buy in 2023 | 2024
We have only skimmed the surface of this fantastic place. Taking a moment from your house or apartment hunting to visit Balboa Park is time well spent.
Another wonderful San Diego attraction is SeaWorld San Diego. It gained its reputation by emphasizing aquatic mammals and fish, but there is a lot more. Sesame Street Bay of Play is a feature just for the little ones in the family. Various animal encounters such as the Flamingo Encounter Tour, the Sea Lion Encounter Tour, and the Beluga Encounter Tour permit everyone to understand better the marine environment and the creatures who inhabit it. Roller coaster and thrill rides round out the experience.
Do you own a home in San Diego and want a fast, free, and automated home valuation in 30 seconds or less? Get One Now ›
5) Why Not Go Remote?
We know that housing is an issue for many people, but we will point out that housing is cheaper in San Diego than in Los Angeles or San Francisco. Other costs of living elements are more affordable here as well. People stay in one area because that is where the job is at. We have an excellent suggestion for you:
GO REMOTE.
Why not? It is no longer just a fad. People are changing jobs for the opportunity to work on a remote basis. Any in the tech industry can take advantage of San Diego's growing opportunities by working remotely. Keep in mind your employer wants your talent; your physical presence might not be necessary. You do not lose anything by asking if you might be able to work remotely. We believe the worst that can happen is if your employer says "no." That would be silly for the organization to do, given the changes in the American work culture.
JUST UPDATED: San Diego's 7 Best Places to Live in 2023 | 2024
There are Some Challenges
Folks who live in Southern California have a decent idea of what to expect in San Diego. However, those who are moving in from out of state or from Northern California might be in for a bit of culture shock. The laid-back attitude of people in this part of the state might take some getting used to, which will present a challenge. In addition, anyone who doesn't know much about San Diego might have trouble finding the right place to live.
JUST UPDATED: San Diego Real Estate Market Forecast in 2023 | 2024
Some communities in San Diego County are relatively conservative, while others are more avant-garde. Lifestyle, as well as jobs, are going to be important when it comes to overall happiness. Anyone new to San Diego ought to think about having some help in finding a house or an apartment. An excellent real estate agent contracts to be the best friend a newcomer might want.
TOP POST: 5 San Diego Housing Predictions in 2023 | 2024
Real Estate agents do a lot of research into the neighborhoods and suburbs of San Diego County. It allows them to create a better fit between a buyer or renter's lifestyle and where that person will ultimately live. It is more than just keeping within a buyer's price range. The real estate agent will look for a community's amenities, particularly those that a buyer feels are essential.
VISIT: San Diego's 7 Wealthiest Neighborhoods in 2023 | 2024
We cannot stress enough to anyone new to the San Diego area that finding a home should not be a DIY project. Regrettably, a person pays for lack of knowledge, and sometimes that can be thousands of dollars more than necessary. We build a rapport with all our clients that is based on mutual trust and efficiency. We will not stall around in finding you a home., Keeping in mind what you need to be happy.
VISIT: San Diego's 10 Most Affordable Neighborhoods in 2023 | 2024
The closing on the house or the signing of the apartment lease is a significant occasion. The house closing has a lot of paperwork that must be in good order, including title searches, home insurance, down payments, and mortgage papers. Rest assured; we will have everything for you so that your major activity at closing will be signing the papers. We will conduct any last-minute negotiations with the seller professionally. We do our best to make sure that the entire house hunting experience is without any major stress.
NEW POST: San Diego's Best 5 Private Country Clubs in 2023 | 2024
You need not take our word for it. Please check references and ask around about us. You will discover that we have a well-earned reputation and fairness. We serve our clients, and they mean more to us than any commission. If you are interested, we will welcome the chance to talk with you. Please feel free to contact us at your convenience. And, if you have decided to move here, let us be the first to tell you that you have made a great decision!
I would love to help assist you with your home purchase, home sale, or home loan - please feel free to give me a call, text, or use the form below.
Your Moving to SD Insider,
Scott
Get Scott's Personal Help Below...
Where Do You Want To Go Next?
By clicking "Send" I/We agree by electronic signature as stated below: 1) To be contacted by telephone even if the telephone number appears on a State/National Do Not Call registry or any company's Do Not Contact lists. 2) To this website's Privacy Policy and Terms of Use.
See Our Top Blog Posts Below...
See San Diego's Newest Listings Below...