6 Best Places to Live in San Diego for Singles in 2021
Posted by Scott Taylor on Tuesday, July 13, 2021 at 3:54 PM
By Scott Taylor / July 13, 2021
Comment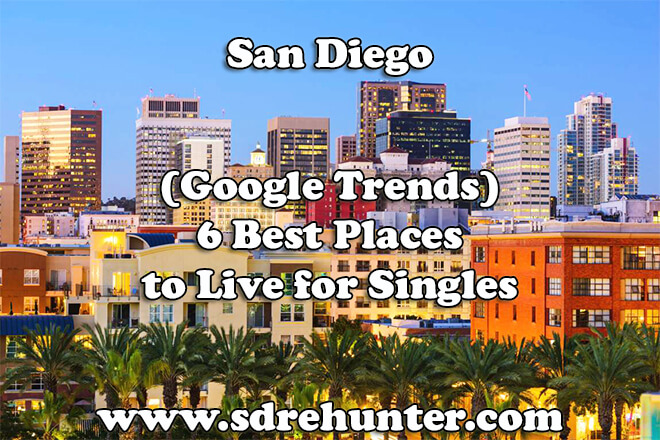 San Diego is a great place for singles to call home. There are high paying jobs, places to continue education, an awesome nightlife and many entertainment options for both day and night. There are also communities that make you feel like family.
Yet, San Diego is a large city and it is made up of pockets of neighborhoods. There are some neighborhoods that are better options for singles to live than others. Things to consider is price of home ownership or rentals, convenience, and quality of life. Below are six of the best neighborhoods for singles:
Here's a quick rundown of our list: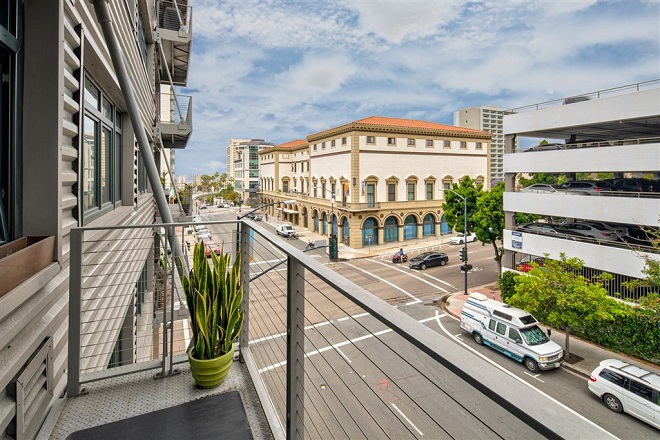 With a population of 43,763, Uptown is one of the most active areas of not only San Diego, but of the entire state of California. It has an urban feel with many rental homes. Most residents there are renters and have professional careers. There are awesome public schools, so those single parents can provide an excellent education for their children. Most resident have at least a bachelor's degree and some have a quarter of its residents have a master's degree. Most residents in this area are liberal, so those with this viewpoint will feel comfortable living here as it ranks high in diversity.
The median home value in Uptown is $608,026 and the median rent is $2,382. It ranks number one in both best places for millennials to live in San Diego and as best neighborhoods for millennials to live in San Diego. It has a solid positive rate for safety and crime and ranks incredibly high with an A+ for nightlife.
Search for Uptown homes, townhomes, and condos for sale here…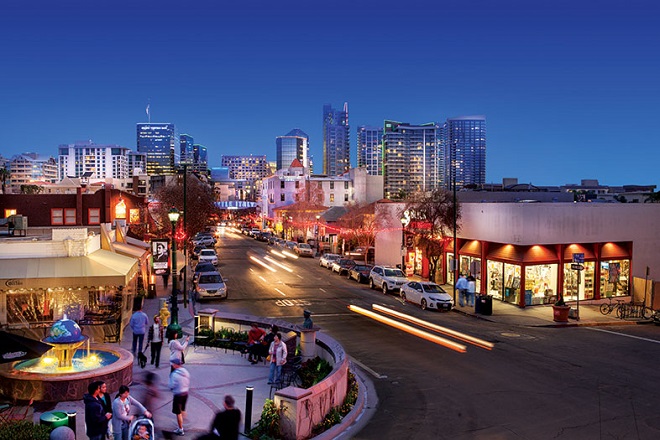 Another urban area that is great for singles to settle is Downtown. The population here is less than uptown with 33,047 living Downtown. It is also ranked as one of the best places to live in California, as well as San Diego.
See the latest San Diego housing stats...
Like Uptown, most residents tend to rent rather than buy their homes. Statistics show that 77 percent of Downtown's residents rent. They are liberal, educated professionals also. The difference in this area, when compared to Uptown, is the schools. Downtown's public schools are above average, but not rated as high as the district in Uptown. However, fewer people in Downtown have children than in Uptown with only 4 percent of Downtown residents being parents. The other difference is in its crime ranking. Downtown has a slightly higher crime rate than uptown, but still maintains an average rating for safety.
The median home value is $655,560 and its median rent is $2,357. There is a heavy nightlife with restaurants, bars and entertainment venues and all are nearby.
Search for Downtown homes, townhomes, and condos for sale here…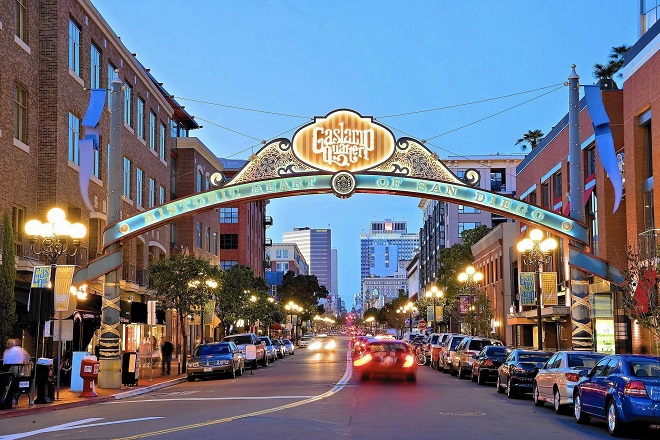 Those who crave a vintage urban vibe will love the Gaslamp Quarter. It is only 16 blocks, but is chocked full of town homes, condos and apartments ready to rent at affordable prices. It also has more than 200 place to go including nightclubs, restaurants, art galleries and interesting shops.
It is named for its old-style look with gas lamps lighting the way. Many of its shops carry on with the early 19th century feel including bars like Prohibition, which promotes a 1920's feel in its speakeasy atmosphere.
The population is 37,832 and the median home price is a low $489,600, one of the lowest in the entire area. Average rent in the Gaslamp District is $2,230. It's crime rate is average, ranked better than 54 percent of cities in the state. There are no schools in the immediate area, but private schools are within a reasonable distance.
Search for Gaslamp Quarter homes, townhomes, and condos for sale here…
---
Blog Post Interrupt
5 Hacks for Buying a House for Cash, Fast, at a Discount...




Back to the Post
---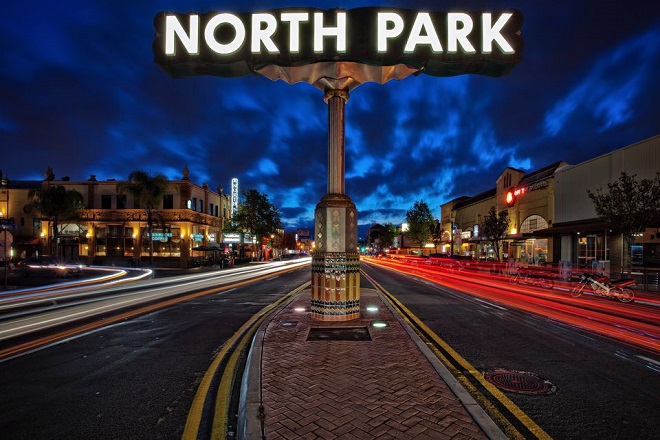 This neighborhood is known for its originality in all things. With a population of 40,896, North Park is highly recognized for its craft beer, so much so it is considered the best beer neighborhood in the entire United States. That originality carries over to other items found in North Park like art and unique shops.
The 5 San Diego housing trends I am seeing now...
One of its best features is its convenience to I-85, making for an easy commute to work or to other parts of the city. You will find lots of rentals including studio apartments and condos. More than 71 percent of its residents rent. Most residents have at least some college education with 52 percent earning a bachelor's degree or master's degree. Residents tend to be liberal and there are more parents here with 11 percent of residents having children.
A positive of this area is it is ranked one of the safest California cities, ranking above 91 percent. Public schools are also ranked above average.
The median home price is $640,667 and the median rent is $2,422.
Search for North Park homes, townhomes, and condos for sale here…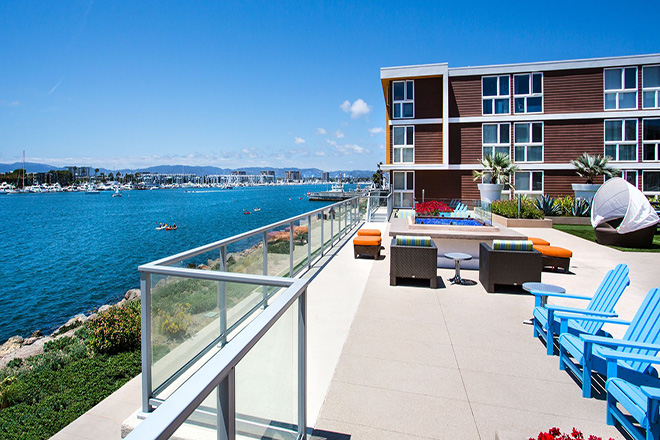 Those singles who love the beach should look to this beachfront community as a place to live. It is one of the smaller communities in the area with 18,172 population. Residents in Ocean Beach are crazy about the bohemian vibe. Some of the best ways to spend time in this community include surfing because there are some excellent areas to try your board.
5 mortgage trends in San Diego you need to know...
This area is a little pricier than other areas with a $871,220 median price for homes and a median rent price of $2,851. Around 70 percent of residents rent. It is considered a safe city with Ocean Beach ranking safer than 75 percent of other California cities. It's public schools are ranked as excellent. Around 9 percent of those in Ocean Beach have children. Most of those living there are liberal and educated with 54 percent earning a bachelor's degree or higher.
Another unique aspect of Ocean Beach is it is dog-friendly and it isn't unusual to see people on the beach with their four-legged friends. There are many places to eat, drink and enjoy nightlife including bars that offer life music, play pool or walk the beach after dinner.
Search for Ocean Beach homes , townhomes, and condos for sale here…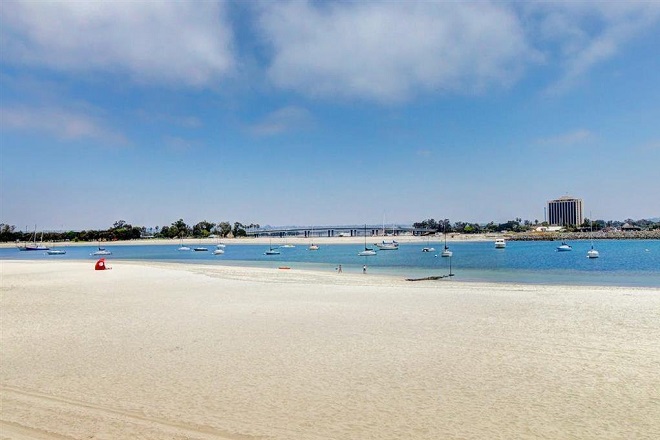 Pacific Beach is another beachfront neighborhood that draws single for its accessibility to high-paying professional jobs as much as it draws for its ocean vibe. The 25,244 residents of this community love its beach bars and surf shops nestled among retail shops and other entertainment venues.
See the latest San Diego mortgage rates...
Those who live here enjoy an incredibly low unemployment rate and tend to make 52 percent more money than those living in other areas of San Diego. It has apartments and beach bungalows for rent or purchase. The beaches are divine beauty and there are almost endless number of interesting restaurants that offer a range of food from fish tacos to southern barbecue.
The median purchase price of a home in Pacific Beach is $812,228 with the average rental price falling around $2,816. Residents in this area are typically liberal and educated with the majority earning a bachelor's degree or higher. Public schools are primarily elementary schools and are ranked from above average to excellent.
Search for Pacific Beach homes, townhomes, and condos for sale here…
Whether you seek the lights of Downtown or the beaches of Pacific Beach, San Diego has a neighborhood that makes you feel welcome.
Leave me a comment below – or, contact me here.
Your Singles Insider,
Scott
Where Do You Want To Go Next?
By clicking "Send" I/We agree by electronic signature as stated below: 1) To be contacted by telephone even if the telephone number appears on a State/National Do Not Call registry or any company's Do Not Contact lists. 2) To this website's Privacy Policy and Terms of Use.
See San Diego's Newest Listings Below...
Get Scott's Personal Help Below...