5 Reasons Golden Hill San Diego Is a Great Place to Live in 2021
Posted by Scott Taylor on Tuesday, April 20, 2021 at 6:59 PM
By Scott Taylor / April 20, 2021
Comment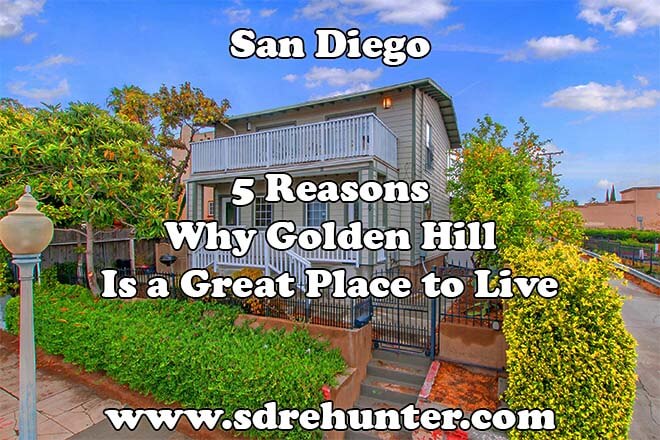 It wasn't for nothing Golden Hill got its name back in the late 1800s, when it shined as one of San Diego's most fashionable neighborhoods.
"…The drooping sails of an anchoring fleet/The shadowy city at our feet/With the Mountains' proud peaks so lofty and still/'Tis a picture worth seeing, from Golden Hill."
—Daniel Schuyler, who petitioned city trustees for the name in 1887
("Golden Hill's Heyday" San Diego Magazine)
Today, evidence of those luxurious times remains in the gorgeous Victorian, Craftsman, and Colonial Revival homes still lining its hilly streets, conveniently within walking distance of both downtown and Balboa Park.
The 5 questions I get asked the most on the San Diego housing market...
If you've never heard of Golden Hill, it could be because of a rough period in the 1990s when it was better known as a place to score drugs than a great real estate deal.
Times have changed, though, and those in search of a place to call home within the city limits should put Golden Hill on the list of neighborhoods not to miss.
Here's a quick rundown of our list:
Reason 1 - Location, Location, Location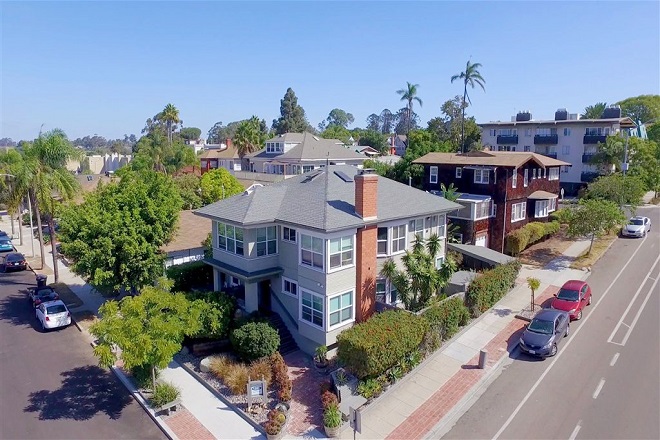 On a clear day, it's no secret why Golden Hill is a gem; soak in views of downtown San Diego, Coronado Bridge, San Diego Bay, and even Tijuana in the distance.
While many neighborhoods boast access to freeways, Golden Hill has that and so much more. As we mentioned earlier, it's possible to walk to both Balboa Park and downtown. In terms of freeway access, if your workplace isn't pedestrian-accessible, you can hop onto the I-5, Highway 94, or Interstate 15. No wonder over a quarter of the community boasts a fifteen-minute or less commute time, according to the San Diego Union-Tribune.
Another bonus of being in the city is the abundance of public transportation to get you wherever you need to be.
See the latest Golden Hill homes, townhomes, and condos for sale here…
Reason 2 - One of San Diego's Most Diverse Neighborhoods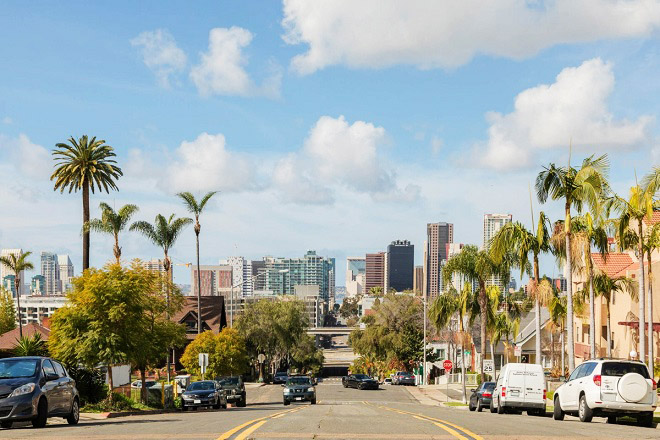 When drugs and crime peaked in the 1990's, the price of real estate and rent in Golden Hill dropped, and working class Latinos and artists — particularly musicians — took advantage of the opportunity. At one point, the neighborhood hosted "some of the most radical underground punk in Southern California," according to SD City Beat. Black Box Recording Studios and The Habitat Recording Studios still call the area home.
See the San Diego housing trends...
It retains a thriving Hispanic community, which is currently about equal to the white, non-Hispanic population, as well as 5% African-American residents.
Economically speaking, the neighborhoods income distribution is evenly spread throughout every group, except the over $150,000-a-year category, which is only 12% of the population, according to Trulia.
Locals are wary of giving up their community to the forces of gentrification, even if you can find a gastropub or two in the neighborhood. The Greater Golden Hill Community Development Corporation (GGHCDC) has been operating since 1991 and, clearly, their efforts have paid off. To ensure the neighborhood retains its diversity and family-friendly feel, it operates a number of affordable housing units geared toward ensuring a place for all as the area changes.
Golden Hill Homeowners: We have qualified buyers desperately seeking to buy immediately and pay top dollar…
Reason 3 - A Place Where Community is Valued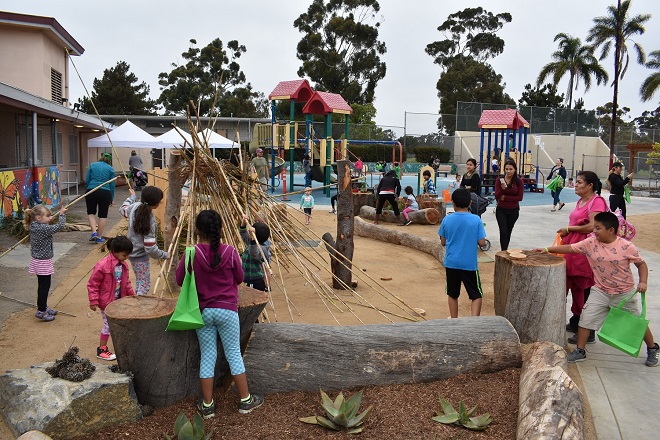 The GGHCDC has been providing an outlet for community involvement and engagement long before Golden Hill's revival began, but it's not the only one. GGHCDC partners with the Golden Hill Farmers' Market, the Golden Hill Recreation Center, and the Golden Hill Community Garden, other local groups committed to serving the population, be it in terms of fresh food or activities.
The Greater Golden Hill Community Planning Group has also been key in making 25th Street the area's go-to spot, as well as ensuring Golden Hill's diversity and architectural heritage are preserved.
The YMCA of San Diego provides a number of family-friendly activities, from youth sports to summer camp to teen programs for local residents to enjoy. No matter what your age, the Golden Hill Recreation Center has something to offer, including yoga, softball leagues for adults and youth, or you can strut your stuff in a Ballet Folkloric class.
Be an expert on Golden Hill real estate – see all active, pending, and sold listings within the last 3 years now
---
Blog Post Interrupt
5 Shocking Facts Exposed: Why Owners Are More Savvy (and Wealthy) Than Renters...


Back to the Post
---
Reason 4 - One of The Top Neighborhoods for Millennials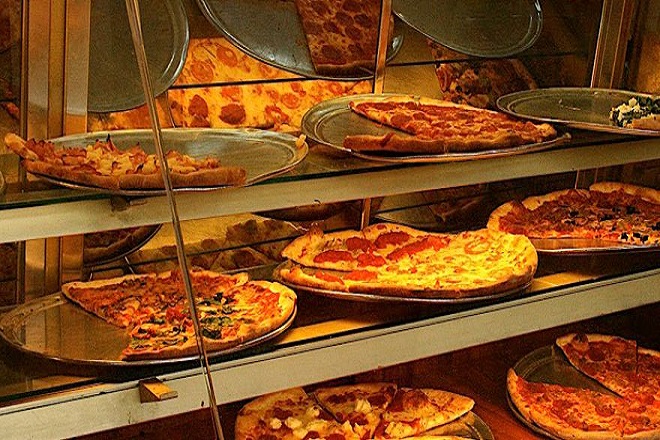 Speaking of the 25th Street revival, if you're looking for great food and drink, a place to grab trendy furniture or just hang out, it truly is the focal point of the Golden Hill social scene.
Pizzeria Luigi's specialty was dubbed "favorite West Coast pizza" by no other than Guy Fieri, himself, and you can wash it down with something from Best Damn Beer Shop, the beer emporium inside Krisp.
Work long hours? You can still kick back and get the relaxation you crave at Girl on the Go! Night Spa, open until 10:00pm on weeknights.
Locals also look forward to two excellent annual festivals, The Golden Hill Block Party and Kate Sessions Fest.
See the best Golden Hill purchase home loans...
Reason 5 - Wonderful original architecture from San Diego's early days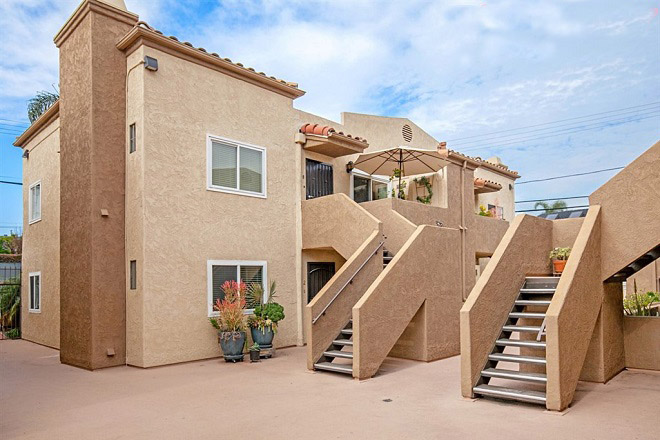 In the late 1800s, Golden Hill offered everything an elite member of San Diego society could wish for: gorgeous views, a quick streetcar ride to downtown, access to what would eventually become Balboa Park, and, of course, the stunning homes.
Is the 2021 San Diego housing market like 2007?
Golden Hill offers the most complete look at the varieties of architecture that have graced this region, with no one dominant style or architect. A walk through the neighborhood — inside the boundaries of the historic district, between 24th and 25th or out — revealed the following styles to Jim Miller of the San Diego Free Press: "Victorian, classical revival, Craftsman, Mission Style, California bungalow, 'oriental' influence, Swiss chalet, Tudor, Art Deco, postmodern contemporary, and eclectic mixtures of various styles, and more. The 'historic' mansion stands next to the stucco apartment complex, and the Arts and Crafts cottage is neighbor to the liquor store and taco stand."
Miller also noted the gardens of many of these historic homes adds another layer to the charm of Golden Hill, a delight that's free for anyone to enjoy.
See the latest Golden Hill mortgage rates...
Suffice it to say, Golden Hill has many of the advantages homeowners seek in the San Diego market.
If you have questions or would like to find out more about the Golden Hill real estate market, please contact me, and I'll be able to help.
Leave me a comment below – or, contact me here.
Your Golden Hill Insider,
Scott
Where Do You Want To Go Next?
By clicking "Send" I/We agree by electronic signature as stated below: 1) To be contacted by telephone even if the telephone number appears on a State/National Do Not Call registry or any company's Do Not Contact lists. 2) To this website's Privacy Policy and Terms of Use.
See Golden Hill's Newest Listings Below...